Trendsetting travel: 2012 hot spots from Acacia Africa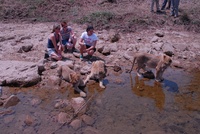 Budget holidays will be an attractive proposition for travellers in the current economic climate, and with 2012 looming, adventure specialist Acacia Africa has pinpointed some of the trendsetting hotspots coming up on the continent.
There's still an ongoing debate when it comes to Zimbabwe, but over the last year, the country has had plenty of hardened adventurers beating down its less well-travelled paths. These intrepid travellers have put the country back on the mainstream map and with a wealth of volunteer projects on offer, Zimbabwe will continue to appeal to the growing number of ethical tourists. 7-day Rediscover Zimbabwe small group safari £445pp + local payment from £218pp.
South Africa, was recently ranked as the sixth most cost-effective long-haul option for British travellers, prices falling 27% since the previous year*1. With adventurers looking to travel further and wider for less, KwaZulu-Natal, one of the Rainbow Nation's up and coming provinces is tipped to be a 2012 hotspot. A stronghold of the Zulu tribe, the region is also home to South Africa's oldest Big Five game reserve, Hluhluwe-Umfolozi – famed for its white rhino conservation efforts. 13-day Trek South Africa small group safari £875pp + local payment from £458pp.
Leanne Haigh, Project Development Manager at Acacia Africa, comments, "South Africa's price driven popularity will also open up the landlocked kingdoms of Lesotho and Swaziland, these lesser known enclaves benefiting from a ready influx of responsible adventurers in search of unspoilt Africa."
Kenya and Tanzania have enduring crowd appeal when it comes to the annual migration, the wildlife spectacle drawing hordes of tourists to East Africa. However, 2012 could be the year for Malawi, the poorest nation in Sub-Saharan Africa now being viewed as one to watch on the continent. The country has invested heavily in eco-tourism over the years, the yearly "Lake Of Stars" festival bringing the warm heart of Africa out of relative obscurity to centre stage. 22-day Zanzibar, Victoria Falls & Kruger overland expedition £945pp + local payment from £384pp.
According to Acacia Africa, the search for exotic climes on the continent shows no sign of waning, 17% of the Y Generation having already visited the northern region by 16 years*2.
Leanne Haigh, comments, "Africa is certainly gaining in popularity, and the traditional gap year in Asia is being replaced by a much more eclectic travel map. In fact, we're seeing this across the board, couples, 30+ solo travellers and more senior adventurers choosing to quench their thirst for adventure, culture, and adrenaline on the continent."
All prices are no single supplement and include camping accommodation, transport, most meals and services of a tour leader/guide. Excludes return flight. For more information, visit acacia-africa.com.