Ducati & iSkin team-up for digital lifestyle accessories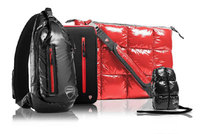 iSkin, a global leader in premium tech lifestyle accessories, announces under Ducati license a brand new line of premium carriers, holders and sleeves for laptops, tablets and similar-sized devices, including the Sling body messenger for iPad 2 and Lil Keeper pouch for cameras and iPhone 4/4S.
The Ducati Collection by iSkin has been borne from these two great brands to produce stylish, protective carriers and holders for high-tech devices, that will fulfill the desires of performance-inspired "technoistas" the world over. The distinctive looks and superior quality of the product line, which feature the highest quality, premium fabrics like Italian nylon, and a Red/Black/White color scheme, will ignite the passion of envious onlookers.
"Ducati has a rich history of performance and quality," says Andrew Ackloo, iSkin President and CEO. "This partnership allows us to provide the style-conscious tech consumer the chance to participate in that history in a very unique way."
"We are delighted to be teaming-up with iSkin, a company which clearly champions the same product passion as Ducati," said Lucio Attina, Director of Ducati Apparel & Brand Development. "Their innovative design and style combined with high performance functionality, mirror the fundamental features of our motorcycles and we now look forward to the association as we prepare for 2012."
The collection is cut to universally fit the world's most loved devices. Some key pieces include the "Sling", an innovative body messenger bag for iPad, iPad 2, or similar-sized tablets and netbooks. The "Jimmy", with spacious compartments to hold your laptops, tablets, other devices and much more. "Summit" puts an urban flair to iPad and iPad 2 (or similar-sized tablets and netbooks) sleeves, and delicately carries your device in strikingly lightweight, padded Italian nylon, reminiscent of current winter trends. The "Lil Keeper" is its smaller kin and adds a much needed fashion punch to point-and-shoot camera and iPhone 4/4S pouches out there. A brand new line of sleek, ultra-thin cases will also be available soon for the latest iPhone and BlackBerry models.
The complete Ducati Collection by iSkin is available immediately at iSkin.com/Ducati and a selection of the collection will be available at shop.ducati.com and rolled out to select premium outlets in the coming months. Follow iSkin on twitter.com/iSkin for live social updates.