A strong reputation gives Redrow the edge, says local agent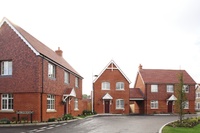 Redrow's reputation for quality and design is setting them apart from the competition, according to a local agent who is now on board to help market the new homes in Hailsham.
The award-winning housebuilder has forged a new partnership with Crane and Co, of Hailsham, to sell its homes at Willow Gardens.
Mike Crane, of Crane and Co, said: "Thanks to its previous developments in Hailsham and the surrounding area, Redrow stands out to our customers as a developer well known for building houses that stand the test of time. Aesthetically Redrow's designs are timeless and the build quality has earned the company a deserved reputation for being one of the best.
"The standard of specification in Redrow's New Heritage Collection homes is above and beyond what is offered by other developers, from the design of its kitchens and bathrooms to the quality fixtures and appliances."
Kitchens in all new Redrow homes are well equipped with integrated top brand name appliances, including microwave, oven and fridge freezer, plus tall cabinets and extra wide drawers that offer a stylish storage solution. The properties also boast sleek modern bathrooms and en-suites with quality fixtures and fittings.
Located off Battle Road, Willow Gardens is well-placed for all the amenities of Hailsham and falls within the catchment area of some of the town's most popular schools, including Hawkes Farm School.
"Given the schools and amenities in the locality, Willow Gardens is in a sought after area for families", said Mike. "We're delighted to have joined forces with Redrow and hope to help the company achieve even more success in Hailsham."
Lesley Stringer, sales director for Redrow Homes (Eastern), said: "With their in-depth knowledge of the local housing market we are delighted to bring Crane and Co on board and are confident the partnership will prove to be a great success."
Willow Gardens features a choice of homes with prices from £107,000 for a one-bedroom coach house, £129,000 for a two-bedroom coach house, £199,950 for a three-bedroom home and from £289,950 for a four-bedroom detached home.
Located on the A22, just eight miles from Eastbourne, about 25 miles from Royal Tunbridge Wells and a similar distance from Brighton, Willow Gardens is well placed as a base for commuters, but has plenty of amenities nearby in Hailsham itself.
For more information, visit redrow.co.uk.