Albania predicted to be number one target for trekkers in 2012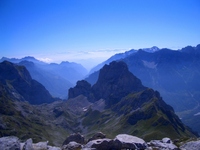 Walks Worldwide, the UK's most knowledgeable trekking holiday organisation, saw an unprecedented demand for its Accursed Mountains trek to Albania in 2011 and, with the levels of advanced bookings already received, predicts that it is set to become the next 'must go' destination for serious walkers in 2012.

Comments Mark Knowles, the man responsible for researching and creating Walks Worldwide's extraordinary trek in Albania: "Serious trekkers are not like ordinary holidaymakers; they are far more adventurous and discerning, constantly seeking the next place which has yet to become popularised by the masses, hence Albania's attraction".
"Europe's last great trekking secret is out; the Accursed Mountains are spectacular, unspoiled and virtually impenetrable, except for a series of high passes that link the few farmsteads of the Albanian Highlanders to the outside world. This remote area of Europe can easily be compared with more far-flung and exotic destinations, including the lesser-trekked regions of the Himalaya.
"In fact, so certain are we that Albania is going to be the next 'in vogue' destination for walkers, that we have put together one of our special 'reccy' trips for September 2012, to explore the 'Mysterious South' of Albania for the first time. This will be unique to Walks Worldwide.

Walks Worldwide's 8-day The Accursed Mountains trek was inspired by both Robert Carver's book of the same name and the exploits of Lord Byron.

The trekking is graded as 'demanding', walking between four and eight hours a day at altitudes of up to 2000m.

The small group trip (maximum 10 people) – which will depart in June, July and September 2012 – will be accompanied by an expert local guide, to explore the wild mountains, where life has barely changed over hundreds of years (and the closest shop is a mere 5 hours' drive away).

The 8-day itinerary costs from £565 pp which includes 7 nights' accommodation, most meals, local guide, overland travel and baggage transfers whilst walking.

For more information, visit walksworldwide.com.

Flights with BA to Tirana cost from approximately £250. Walks Worldwide is a fully-bonded, financially protected tour operator and can book them on request.