A Lakes break encompassing food fun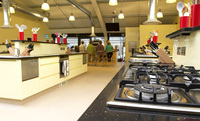 Base a languid Lake District holiday or short break around food and cookery in 2012 and head to the scrumptious LucyCooks cookery school in Staveley, near Kendal.
LucyCooks has just published its schedule for January to March 2012 and uploaded details of courses for April and May at lucycooks.co.uk. Food lovers, eager cooks and those just starting out are all welcome and will find a full-day or half-day, hands-on course to suit their interests and culinary preferences within a sizzling schedule that should really whet the appetite.
Those inspired by the 'Great British Bake Off' are truly spoilt, as a variety of courses will satisfy their desire to bake, whether that is Bread for Beginners (January 11), Classic Cakes and Bakes (January 25 and March 23), Speciality Breads (February 3 and March 25), Tarts, Puds and Perfect Pastry (March 7), or Beginners Baking (April 6).
Others who wish to recreate the flavours of food consumed during foreign forays have riches from which to choose in the form of a range of 'Taste Of' courses, which cover delicious cuisine from Italy, Thailand, France, Tuscany, Andalucía, Morocco, South East Asia, India, Spain and the Mediterranean, during the first 5 months of the year.
Then, for visitors wishing to eat the Lake District landscape during their stay in Cumbria, as well as gaining recipe inspiration when it comes to using fabulous produce from the area, there are 'Taste of Cumbria' courses running on March 2, April 4 and May 4.
Children can join in with the sheer fun of cooking in a state-of-the-art kitchen by joining their parents or other adult relatives on a Family Fun Day. These run every month, with special twists such as a desserts-only event on February 19, a 'Mothering' Family Funday on March 18, and an Easter-themed event on April 8.
Whilst they specialise in the indulgence of food and its preparation, it's not all about the cooking at LucyCooks and the January to May schedule has gems for those who prefer to watch and taste. Hugely popular evening Demo and Dine events are entertaining alternatives to eating out – LucyCooks describes them as 'dinner with strangers who become friends' and feature a chef demonstrating and creating the meal upon which guests then dine. New in the Demo and Dine schedule are Sunday Lunch demo and dines, running on April 15 and May 20.
If it's just an initial 'bite' of what LucyCooks has to offer, then consider a Demo and Taste, running on themes such as Afternoon Tea and Temptations and a new choice, Canapés and Bubbles (April 21), or the hugely popular Cupcakes and Champagne.
With new two-day courses called 'The Knowledge', new Macaroon and Cupcake Afternoons and exciting Curry Fights, there's every reason to put a LucyCooks date into the holiday diary and consider it an alternative activity day in a region of lakes, fells and unforgettable food.
Look, book and cook by heading to lucycooks.co.uk to choose from its brand new menu of courses, or call 01539 822507 to make bookings, enquire about bespoke events and buy gift vouchers. Advice on local hotels and B&Bs can also be provided, including details of a special package with the Lingmoor B&B in Windermere.
Full day courses cost between £135 and £175, half-day courses are typically £70 and Family Fun Days are priced at £125 for one adult and one child (under 12). Full-day courses include all tuition, ingredients, lunch, refreshments and a goody bag of the food cooked to take home. Demo and dines are typically priced at £40 per person, covering demonstration, three-course meal and welcome LucyCooktail!