Valentine getaways to the land of Aphrodite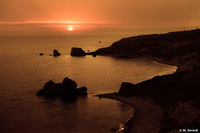 As the mythical birthplace of Aphrodite, the ancient Greek goddess of love and beauty, Cyprus has a well-earned reputation as the island of love: 4,500 British couples got married on the island last year, and countless more - including Zara Philips and Mike Tindall - choose the island as the destination for their honeymoon.
With regular flights from the UK, year-round sun, and temperate climate - even in February - Cyprus also makes an ideal location to take a loved one for a Valentine's Day getaway. Whether your perfect romantic retreat is a luxury weekend in a five-star resort, exploring the ancient history and rural customs of the island off the beaten track, or simply enjoying a weekend of pampering at one of the island's many spa resorts, the island has romantic breaks to suit any couple.
And visiting the island out of peak season means that lovebirds can get away for less: flights start at £160 and many of the hotels offer special Valentine packages.
Cyprus has one of the most stunning coastlines in the Mediterranean, and many of the island's luxury hotels and resorts have beachfront locations to take advantage of the beautiful sea views. For couples looking for a rural retreat, a trip into the Troodos Mountains or the Akamas Peninsula is a must. Die-hard romantics can even follow in the trail of the goddess of love herself, taking time to gaze into the crystal clear waters surrounding 'Aphrodite's Rock' on the Pafos coast - the fabled birthplace of Aphrodite (swimming around the rock at midnight is said to make the swimmer younger by a year for every lap) - before driving to Polis to the Baths of Aphrodite, a secluded pool where legend holds that the goddess is said to have seduced Apollo.
If you prefer to be pampered then a trip to one of Cyprus' excellent spa retreats makes for the ideal Valentine's retreat. Wellness tourism is a booming sector in Cyprus, with spas across the island offering the latest advances in beauty and therapeutic treatments alongside more traditional options.
Finally, if the way to your loved-one's heart is through their stomach, romantic foodies will be spoilt for choice: Cypriot cuisine centres around the use of fresh, local ingredients blending a traditional influence of three continents.
For more information, see visitcyprus.com.