Follow Holmes and The Hounds to Dartmoor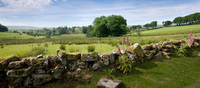 This Sunday night sees the second episode of the new Sherlock series on BBC One, The Hounds of Baskerville. Holmes' most famous case comes to Dartmoor as the intrepid duo track down a monstrous hound from hell. Visitors to the Prince Hall Hotel in the heart of the moor - inspiration for Conan Doyle's original novel - may prefer to settle with their hounds in front of the cosy log fire.
Conan Doyle's novel tells the story of an attempted murder motivated by the legend of a fearsome, diabolical hound. It was whilst staying at the Prince Hall, at the time the private home of the Barrington family, that Conan Doyle was reputedly inspired by the surrounding countryside to write The Hound of the Baskervilles. And the new TV depiction wouldn't have been complete without scenes shot on location on Dartmoor.
Whilst guests are more likely to encounter the friendly resident spaniel, Polo, than any terrifying hounds at the Prince Hall, a visit to nearby Buckfastleigh can take in the tomb of Squire Richard Cabell, the man behind the legend. Or take a tour of Dartmoor Prison, one of England's most famous penal institutions (no longer home to high risk criminals).
Super sleuths may also chose to track down the moorland locations featured in the BBC series, including Hound Tor.
The Prince Hall Hotel costs from £115 per person per night on a dinner, bed and breakfast basis. Stay for two nights during January or February (excluding Valentine's day) and enjoy a three course dinner, bed and breakfast from £79 per person per night, a saving of over 30% on the usual rate. Hounds stay free.
For more information, visit princehall.co.uk.