Last minute deluxe Namibia winter sun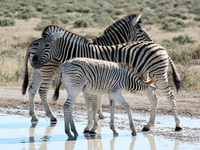 This last minute trip offer (Jan-March) presents the perfect opportunity to escape the British Winter and experience Namibia in comfort and style with the benefit of a highly experienced private guide taking in marine life, Namib desert dunes, safari in Etosha National Park and the big cats of AfriCat and Okonjima.
Arriving in Windhoek - Namibia's capital by way of Johannesburg; You will experience this highly unique city of modern and colonial architecture with its obvious throwback reminders to its German colonial roots, before travelling through the scenic Khomas Hochland game and cattlefarm conservancy to the beachtown of Swakopmund, where optional quad biking through the dunes is also available.
Taking the catamaran to Walvis Bay Lagoon - you will cruise from the lighthouse alongside oyster platforms to the ever-growing Pelican Point where the local seal colony reside, you will be able to see three different types of dolphins, including; Benguela Dolphins, Dusky and Atlantic Bottlenose Dolphins, pelicans, flamingos and possible sightings of Mola Mola (Sunfish) and Leatherback Turtles.
In the afternoon you can choose to drive back on the inland side of the coastal dunes to enjoy the desert scenery or out into the gravel plains of the Namib, the moonscape and Welwitschia mirabilis. The moonscape itself offers some stunning views of the rugged hills that lie beyond the gravel plains of the Namib.
Next stop Damaraland - with its huge, untamed and ruggedly beautiful landscape that leads to Etosha National Park. The park is made up of grassland, woodland and savannah, although its name translates as 'Place of Mirages' due to the many saline depressions 'or pans' that cover over a quarter of the area.
The largest - Etosha Pan is classified as a saline desert in its own right which only fills with water when sufficient rain falls to the north in Angola. Boasting some 114 mammal and 340 bird species, you can expect to see an abundance of wildlife including; elephant, lion, giraffe, blue wildebeest, eland, kudu, gemsbok (oryx), zebra, rhino, cheetah, leopard, hyena, honey badger and warthog, as well as the endemic black faced impala. That afternoon you will return to Okaukeujo, with time for a game drive or to relax and soak up the late afternoon Namibian sun - while watching wildlife come and go at the camp's floodlit waterhole.
You will stay at the luxury tree tents of Mushara Bush Camp, enjoying spectacular game viewing.
Nearing the end of the trip you will make your way to Okonjima located at the base of the Omboroko mountains, with an option to visit Otjikoto Lake - which hosts a rare, mouth-breeding species of fish, endemic to the lake.
Okonjima is also the home to the Africat Foundation, a wildlife sanctuary that is dedicated to creating conservation awareness, preserving habitat with their main focus on Africa's big cats, with the largest cheetah and leopard rescue and release programme in the world. Activities may include leopard tracking by vehicle, visiting the cheetah welfare project and the night hide where nocturnal animals such as porcupine, caracal, honey badger and even leopard may be seen.
Dates: January - March 2012
Winter Special Rates:
From £3475 per person based on 2 people travelling together (Winter tour saving - £1140 per couple)
From £2995 per adult and £2685 per child based on 2 adults and 2 children under 12yrs travelling together. (Winter tour saving - £1600 per family)
For further information, visit reefandrainforest.co.uk.