Maggie Mania hits town!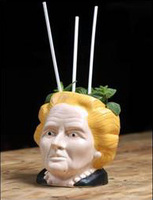 British icon Margaret Thatcher will be thrust back into the limelight with this month's release of the new Hollywood film staring Academy Award-winner Meryl Streep, The Iron Lady. 1980s-inspired boutique nightclub Maggie's will be celebrating the arrival of 'Maggie Mania' with a full refurbishment and Margaret Thatcher-inspired cocktail.
The nightclub's refurbishment known as 'Maggie's Facelift' will be unveiled, featuring new authentic 80s memorabilia, wallpaper, and Pacman DJ booth. In honour of The Iron Lady, the nightclub has created a truly formidable sharing cocktail; The Maggie's Head.
On the evening on Thursday 19th January they will also be organising a screening of The Iron Lady at Chelsea Cineworld and will then ferry guests to the nightclub by classic Routemaster buses for a Barcardi and Grey Goose cocktail reception followed by a truly awe-inspiring 80s performance by a surprise guest.
As a child of the 1980s, Charlie and his business partner Duncan Stirling have created a kitsch and amusing tribute to this great decade in which they were both born and to the legendary Prime Minister. Maggie's is walking distance from Thatcher's present home, though whether she chooses to visit remains to be seen! Club-goers can hear her famous speeches playing in the loos, while Thatcher memorabilia vies for space on the walls along withother iconic 80s images and paraphernalia.
For more information, visit maggies-club.com.