Tesco expands its online beauty offering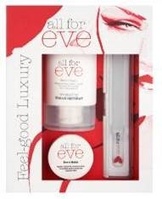 Following the successful launch of its first online beauty range earlier this year, Tesco will be extending the range by a further 300 lines this January.
New additions to the range include All For Eve's lip and nail products, The Vintage Cosmetic Company's eyelashes and eyelash curlers, Evolve's bathing and skincare products, Barefoot Botanicals' skincare range, Tisserand's relaxation products and Dr. Lewinns' specialist skin and nail treatments, which are currently available in the new Tesco beauty shops in Dudley, Horwich and Newport. The full range of Natio skincare and cosmetics products will also be launched, in addition to the Natio gift sets currently available.
The stunning new beauty products include:
Eve's Beautiful Hands, All For Eve, £20.00
False Eyelashes, Vintage Cosmetics Company, £6.00
Gentle Cleansing Melt, Evolve, £13.99
Day Cream Moisturiser, Dr. Lewinns, £31.00
Face and Body Rescue Cream, Barefoot Botanicals, £18.00
De-Stress Bath Soak, Tisserand, £7.25
Tesco launched its first online beauty range on 31st October 2011. The further 300 lines will be available on tesco.com from 19 January 2012.