A 'Nest Close To Paradise' in the hills of Tuscany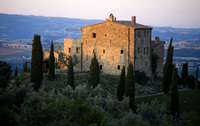 Castello di Vicarello has designed an exclusive 'Nest Close to Paradise' Package especially for groups.
Castello di Vicarello, in the Maremma region of Tuscany, is surrounded by rolling hills, vineyards and orchards with stunning views down to the sea, providing a wonderful setting for intimate getaways with your nearest and dearest. This 12th Century ultra-luxury retreat offers floral-filled gardens, striking scenery and cool sea breezes, as well as two secluded infinity pools and a spa.
Perfect for family and friend celebrations, such as milestone birthdays, the exclusive package allows intimacy in a gorgeous setting which will truly make you appreciate the things that truly matter in life. The Castello's Villa Chiesina (Suite Chiesina, Deluxe Grotta) and Suite Sassi will be transformed into a private nest for 6 persons, and will include a dedicated butler, private breakfast, lunch & dinner (including room service), mini-bar drinks, private access to Villa Chiesina's infinity pool and use of the sauna & hot tub. With your every need catered to, you can live in the lap of luxury with your nearest and dearest, without a care in the world.
The package is offered at €4,800 per night. Guests can also opt for a yoga version of this package for an additional €240 per day.
This package is offered at €4,800 per night, inclusive of 10% VAT (all-inclusive with the exception of wine/liquor, laundry services, phone charges and other incidentals). Yoga classes can be booked for additional €240 per day. Cancellation policy: Cancellation notice: 60 days or more - no charge, under 60 to 30 days - 50% of the stay will be applied, under 30 days - 100% of the stay will be applied. Castello di Vicarello is a gastronomic spa retreat with seven suites, designed for the discerning traveller. A luxurious, medieval castle nestled in the Tuscan hills, close to Siena and Grosseto.
For more information on Castello di Vicarello, visit vicarello.it.