Sip champagne as you plan your next move with Elan in Kidderminster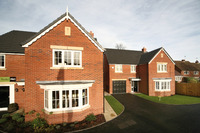 Home buyers will be able to toast building a future in a brand new home this weekend (January 21 and 22) as Elan Homes hosts a special event to explain just how easy moving up the property ladder can be.
The developer is inviting prospective purchasers to a champagne reception at The Briars in Kidderminster. They will be able to enjoy a taste of things to come at the development and discover how part exchange could speed up their move to a brand new home.
Justin Heath, from Andrew Grant estate agents, explains: "The local housing market in Kidderminster has shown signs of stability in the last few years, with prices generally holding true for many house types and areas. Our office recorded a higher number of sales in 2011 than in the previous year and we're hoping that will continue in 2012, but recognise that in the current economic climate people may be cautious about buying when they have a home to sell.
"New build homes such as those at The Briars really can offer a fast and cost effective solution as incentives such as part exchange remove the need to sell your current property to fund the purchase of a new home, cutting out the uncertainty that comes with many transactions."
The four-bedroom homes at The Briars are available in a choice of styles, with prices from £294,995.
Elan has invested great care and attention to detail in the homes. Built for living, they offer well-planned accommodation including open plan layouts that maximise the potential of the space available. Many of the designs combine the kitchen, dining area and family room with a separate spacious lounge to sit back and relax in. Some of the properties boast not one, but two en-suites.
The homes don't just look stylish, but are also very practical and are built to impressively high insulation standards. The standard specification includes the latest energy efficient boilers, window panes made from coated glass to keep rooms warmer in winter and cooler in summer, with low energy light bulbs and low energy appliances selected for quality and visual appeal.
Justin added: "In the long term, the highly efficient running costs of a brand new home can make a big difference to a household's annual budget, creating more disposable income for the family to benefit from."
Situated in the Habberley area, The Briars is well placed for local schools which means the homes will be a popular choice with families. They also enjoy easy access to local amenities, are just a short journey away from the centre of Kidderminster yet are also within reach of the Worcestershire countryside.
Visit The Briars in Habberley Road this weekend (January 21 and 22) to discover how part exchange could hold the key to your next move.
For more information, visit elan-homes.co.uk.