New Blu-ray Disc Players and Home Cinema systems from Sony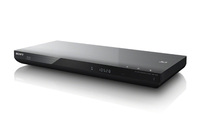 Suspending disbelief. Losing yourself in the moment. It's what great entertainment is all about. And with our new Blu-ray Disc players and Home Cinema systems, you can experience it more completely than ever before.
It begins with picture quality that's even sharper and clearer – whether you're watching a movie on Blu-ray Disc, a DVD box set or catch-up TV streamed from the Internet. Even YouTube videos are enhanced closer to HD quality.
And for true picture quality purists, our BDP-S790 Blu-ray Disc player can upscale movies to Digital Cinema 4K resolution. The next generation of High Definition, this new format offers more than 4x better resolution than current Full HD. Your eyes are in for a treat.
Setting new standards in sound
Our new Home Cinema Systems also deliver even smoother, purer audio – whether it's the latest Hollywood blockbuster in 3D surround sound or a more intimate, understated TV drama.
We've included a software option that maintains a consistent, comfortable listening experience by automatically adjusting sudden spikes in sound - including loud adverts. And by focusing on the sound level of dialogue, rather than explosions or other big audio effects, it helps you keep track of those crucial moments in the plot.
Enhanced auto calibration is another key feature, enabling you to enjoy the ideal sound stage, no matter where you've placed your speakers. With wireless rear speakers for many of our models, positioning your equipment to maximise sound is hassle-free.
In addition, all new N-Series Home Cinema Systems are equipped with innovative Magnetic Fluid speakers. Not only do these deliver virtually flawless, distortion-free sound, they're also more energy-efficient and more compact than traditional speakers.
Even more spoilt for choice
With Wi-Fi built into more of our Blu-ray Disc Players and Home Cinema Systems, you can easily access, enjoy and share an even wider world of online entertainment in 2012 on your LED TV.
It all starts with the Sony Entertainment Network, which includes a huge range of movies on demand, music, sports, catch-up TV and online videos with channels like YouTube.
While you're watching or listening, find out what song is playing or in-depth info about a film – all at the touch of a button. And if you've got music and photos on your Smartphone or tablet that you'd rather enjoy on a grander scale? No problem, just use the new 'throw' function to transfer it to your Blu-ray Disc Player or Home Cinema System quickly and easily.
The same goes for movies, music or photos on your PC, just access them via your home network and play them back on the big screen. And for total convenience, you can set up your Smartphone as a remote control for your entertainment system. Use it to adjust settings, or as a keyboard for typing when you go online.
It's all about making your entertainment experience as effortless, varied and immersive as possible.
An exciting new chapter in home entertainment
"The way we enjoy entertainment has changed and our new Blu-ray Disc Players and Home Cinema Systems for 2012 reflect this," says Joss Kaldenberg, Business Manager, Audio & Video Marketing Europe. "It's not just about your treasured DVD or Blu-ray Disc collection anymore, now people want to enjoy online content too. And they want it to look and sound better than it would on their PC."
"Watching a YouTube clip on the big screen, catching up on a TV show, listening to music – with our latest models, you can experience all your favourite content more easily and in better quality than ever before."