Move to a brand new home and slash your energy bills in 2012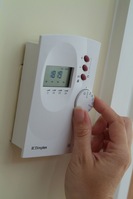 With a Government target to go zero-carbon by 2016, developers are turning up the heat on energy efficiency for new homes customers.

Research shows that new build homes are already six times more energy efficient and generate over half the CO2 emissions than older style properties.

This is the equivalent of driving 10,000 miles less a year per household!

And as well as doing their bit for the environment, by living in a new home customers can improve their energy efficiency and reduce their bills by around £500 a year. That's enough to pay for a holiday or an ipad!

More new build homes include greater restrictions on water usage, an understanding of air tightness - less air leakage out of a home means lower energy use - and many other eco-friendly improvements.

Linden Homes can help customers at its developments across North East Lincolnshire and Yorkshire reduce energy and save money when they buy new.

Steve Woomble, sales director, said: "As part of the Government's directive and our own responsibility towards the environment, our new homes meet with all the relevant regulations.

"Energy efficient new homes are well insulated and include double-glazing as standard – automatically making them cheaper than many older style homes

"All new homes are also fitted with a water metre, and studies show that new homes are on average six times more energy efficient that older homes, so producing lower energy bills."
Facts (courtesy of the Energy Saving Trust)

Annual CO2 emissions from a home built in the early 1900s would be double (eight tonnes) of those of a new built home today.

A new build home will use 33 per cent of its energy on heating the space in the home, compared with 44 per cent in a 1970s home and 63 per cent in a 1900s property.
And while you are planning your move to a brand new Linden home, here are some energy-saving tips that could save you money while you wait:

Cavity-wall insulation. Check your loft insulation is thick enough and in good condition. A depth of 11 inches is recommended. Loft insulation, cavity wall insulation and double-glazing can all help protect your home and save money on heating bills. You may be eligible for a grant to help with this work.

Draught-stripping. Installing specialist strips of foam around windows and doors will significantly reduce draughts, again making your home warmer and an average of £20 a year cheaper to heat.

Pipes - Icy weather can freeze pipes causing them to burst and flood your home when they thaw. Make sure you know where the stopcock is so that you can turn the water off if necessary.

Service your boiler – Try and get your boiler serviced professionally each year.

Bleed your radiators - Bleeding your radiators gets rid of any air inside which may lead to increased bills if the radiators aren't working efficiently.
For further information, visit lindenhomes.co.uk and for more energy saving tips visit energysavingtrust.co.uk.
Linden Homes has developments in Grimsby, Market Rasen, Riccall, South Milford, Howden, Cleethorpes and Retford.