Volkswagen Touareg Bluemotion now available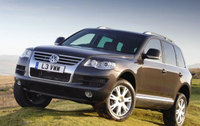 A BlueMotion version of the Touareg is now available to order, offering improved fuel efficiency and emissions of 219 g/km, well below the tax threshold of less than 225 g/km. Prices for the most efficient version of Volkswagen's luxury off-road vehicle start at £34,150 on the road RRP for the entry level model and rise to £37,545 for the SE.

The Touareg BlueMotion is fitted with a more efficient version of the standard car's 3.0-litre V6 TDI common rail diesel engine which develops 225 PS and 550 Nm of torque, and drives through a six-speed automatic tiptronic gearbox. As with all models in the Volkswagen range wearing the BlueMotion badge, a number of modifications have been made to improve efficiency. Changes include revised aerodynamics, an optimised engine including a more efficient alternator, low rolling resistance tyres and a ride height lowered by 25 mm to reduce drag.

The Touareg BlueMotion also features a regenerative braking system which is used to charge the battery while the vehicle is in motion, reducing the workload of the engine and cutting fuel consumption further. All of these revisions help the Touareg BlueMotion to achieve 34.0 mpg on the combined cycle (down from 30.4 mpg), and CO2 emissions are cut to just 219 g/km, down from 244 g/km, making it one of the only non-hybrid vehicles in its class to drop below the 225 g/km barrier.

The reduced emissions of the Touareg BlueMotion mean that it qualifies for band K road tax at £215 a year, saving £190 over the standard Touareg 3.0-litre V6 TDI 240 PS. With the addition of improved fuel economy, making savings of two pence per mile, or £10.99 per tank, the Touareg BlueMotion can save the average driver around £400 a year.

Despite these modifications and significant gains in efficiency, the performance figures for the Touareg BlueMotion are only slightly affected with a 0 to 62 mph time of 8.5 seconds and a top speed of 126 mph.

Equipment levels on both trim levels, BlueMotion and BlueMotion SE, remain high with cruise control, a leather multifunction steering wheel and newly designed 17-inch 'Makalu' alloy wheels fitted as standard on BlueMotion models. BlueMotion SE offers increased levels of comfort and equipment with the addition of 2Zone electronic climate control, touchscreen satellite navigation, heated front seats, 'Cricket' leather upholstery, Walnut wood interior trim and 18-inch 'Valley' alloys.

As with all models in the Touareg range, the advanced 4XMOTION all-wheel-drive system linked to an Electronic Differential Lock (EDL), hill start and descent assist, Electronic Stabilisation Programme (ESP) and six airbags are all fitted as standard.

The Touareg BlueMotion is available to order at Volkswagen Retailers now with the first cars due to arrive in September. For more information visit volkswagen.co.uk.