From vineyard to vineyard under sail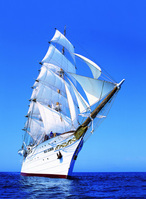 Vineyard touring with a difference – a journey from Rome to Nice, sailing from wine estate to wine estate on an exclusive Arblaster & Clarke Wine Cruise, aboard the stunning 'Sea Cloud'. This luxurious authentic square-rigger, with four masts that support twenty nine sails when fully unfurled, offers a voyage of discovery passing by Ischia and Amalfi, Corsica, Portofino and St Tropez, stopping at small ports and islands, tasting wine varieties from across the regions alongside local speciality dishes. There is simply no better way to taste wine!
Arblaster & Clarke Wine Tours have chartered the Sea Cloud for a new week-long 'Rome to Nice Wine Cruise', in July 2012. The journey illustrates the excellence of the Ischian wineries; wines from Campania and an exceptional range of top quality Southern Italian wines. With a full day sailing to Corsica, the Sea Cloud moors at Bonifacio where the tour is joined by a Corsican wine producer, before setting sail to enjoy a choice of Sardinian wines over dinner. After a day relaxing on the beautiful island of Elba, the ship departs for St Tropez whilst an onboard tasting of fine wines from Northern Italy accompany dinner.
Bastille Day celebrations greet the cruise in St Tropez. The square rigger does not set sail again until the festivities end and a magnificent firework display is witnessed. En-route to the final destination of Nice, tastings concentrate on exceptional wines from the South of France and in true style, Champagne brings this luxurious voyage to its end!
This seven night Rome to Nice Wine Cruise includes transfer from Rome Fiumincino airport to Civitavecchia meeting one BA flight; wine tasting ashore in Ischia; transfers and wine tasting and lunch in the Amalfi vineyards; seven nights in chosen cabin; breakfasts; buffet lunches with ship's wines; afternoon tea; dinners with A&C wines from the regions; onboard crew tips. At ports where wine visits are not included you have free time. Tim Clarke as Wine Guide. Cabins are en-suite and air-conditioned. Based on two people sharing, travelling from 8-15 July 2012, from £4999 per person.
Cabin availability is limited, for booking information and reservations, visit winetours.co.uk.