Win a very special celebration at the AA's Hotel of the Year 2012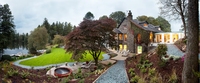 An award-winning Lake District hotel and spa is looking for 25 special couples to share a once-in-a-lifetime celebration.
The luxury Gilpin Hotel and Lake House in Windermere is marking its quarter century by offering long-term couples the chance to win a fabulous all-inclusive break.
One of those lucky couples will also win an exclusive stay for 12 people in the stunning six-bedroom Lake House, worth £4,500, for a fabulous celebration with their family and friends.
The AA's English Hotel of the Year 2011-12, Gilpin is situated in the heart of the southern Lake District, one of the UK's most breathtaking locations.
Renowned for its sumptuous facilities, old-fashioned hospitality and the excellence of its food and wine, it is the perfect place for a memorable occasion.
Gilpin has been owned and run for the past 25 years by the Cunliffe family (John, Christine, Barney & Zoë), and in that time they have hosted thousands of special celebrations, ranging from romantic dinners à deux to large family gatherings.
John says: 'Our feeling about running a hotel is that perfection is a big word but a good objective. It's got to be right and it's got to be special - every moment. Nothing less will do.
'It's about friendliness, attention to detail and tailoring the service we provide to each guest's particular needs.'
The Cunliffes decided the ideal way to celebrate their anniversary would be with other couples enjoying equally enduring relationships.
Barney adds: 'We're really looking forward to meeting the winning couples and learning the secrets of their relationship success.'
The 25 lucky couples will each receive an inclusive mid-week overnight stay at Gilpin Hotel, worth at least £400, including afternoon tea, and later, Champagne followed by a five course dinner with matched wines, and full English breakfast the following morning.
During their stay, each couple will also be given the opportunity to enter the competition for the grand prize of exclusive overnight use of the fully serviced and staffed Lake House for themselves and up to 10 friends and family members.
They will also be asked to share their thoughts and experiences of love and relationships, previous anniversaries and special occasions.
The ultimate celebration prize is worth £4,500 and includes sole use of all facilities at the Lake House, which featured in the ITV series 'The Lakes'. It is set on a private lake in 100 acres of grounds and has its own swimming pool, hot tub and sauna.
The winning couple will be greeted with Champagne and an in-room spa treatment in the master bedroom, 'Harriet'. Later, they and their guests will enjoy a Champagne reception, a delicious bespoke dinner prepared by the chef at the Lake House and, before checking out at 11am the following morning, they will be served a full English breakfast.
To be eligible to enter, couples must have been together for at least 10 years and need to provide two photos of themselves - one from the early days of their relationship and one taken more recently.
Zoë said: 'People come to Gilpin for all sorts of celebrations - anniversaries, birthdays, honeymoons, engagements, recovery from illness - and whether they are basking in new love, celebrating a long-term relationship, or have been through a difficult time, we are very privileged to play our part in turning these important milestones into cherished memories.
'As the competition progresses we really want to get to the heart of why relationships work, or don't work, as they are the core of everything we do at Gilpin - guests' relationships with each other, relationships between the team, between the team and the guests… without people we are nothing!
'That's why inviting long-term couples to tell us their stories and join us to celebrate them is the perfect way to mark Gilpin's 25th anniversary.'
To enter the competition, visit facebook.com/gilpinlodge
Entries close on 15 February, 2012, at 11am, and the 25 winning couples will be announced by 28 February.
For more information about Gilpin Hotel & Lake House, visit gilpinlodge.co.uk.