Samsung's new versatile Smart Blu-ray player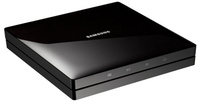 Samsung has announced a new Blu-ray model which offers a virtually limitless entertainment experience with Full HD 1080p playback and new ways to access cloud-based content on multiple devices.
The new 3D Blu-ray model; the BD-ES6000 is a compact Smart 3D Blu-ray player boasting a form factor that is no larger than a disc.
Russell Owens, Head of AV, Samsung UK, said, "Building on Samsung's legacy of innovation, this new addition to the Blu-ray player range offers consumers increasing options to enjoy an outstanding experience without having to compromise on design. The BD-ES6000 combines cutting edge design with innovative features to deliver the ultimate in home entertainment."
Innovative Blu-ray Features in a Sophisticated Form Factor
Consumers can enjoy innovative design without sacrificing performance with Samsung's new stylish Smart 3D Blu-ray player. The BD-ES6000 is designed with convenient centralised controls for easy access and management and Samsung's premium player also comes with a centralised slot-in mechanism. The models lack of mechanical parts also makes for a smoother and quieter loading experience, with a boot time of less than one second.
Consumers can now easily enhance and upgrade their current TV experience with the latest services and content options through Samsung's Smart Blu-ray player. The premium model provides access to the Samsung Smart Hub, a simple way to access, search and explore Samsung Apps. New in 2012, the BD-ES6000 will offer a full web browser, which can be controlled with a conventional USB mouse and keyboard. It will also have built-in Wi-Fi for convenient access to a variety of web-based content and connectivity options.
Sharing content across devices is made even easier with the new DLNA-certified BD-ES6000. In addition, the new model will be supported by Wi-Fi Direct, which allows Wi-Fi devices to be connected directly and easily without a wireless access point.

Regardless of the resolution of the source material, the BD-ES6000 has a powerful video processor that can up-convert DVDs, older non-HD content and even low-resolution streaming video to pristine Full HD 1080p. It also supports an array of audio formats including Dolby Digital Plus / TrueHD and DTS-HD Bitstream outputs. Also with the BD Wise Plus feature, TV settings are automatically adjusted to provide optimal picture for each scenario.
Compact Blu-ray Player
Only slightly larger than a Blu-ray disc, the versatile Samsung BD-ES6000 Smart 3D Blu-ray player packs the latest video technologies and connectivity features into a compact form factor. This balance of technology and high design makes it the perfect addition to any room where space is at a premium, but outstanding video playback is desired.
Taking minimalism to the max without sacrificing performance, the BD-ES6000 sports a cubic form factor and features a stylish multi-layered pattern design on the top of its cabinet.
Stay in control with Samsung's new remote control App
Samsung is introducing a new remote control app that can be downloaded onto an Android or Apple smartphone. The 2012 remote control app enhances how users control and search for content on their Blu-ray players. When the smartphone is connected to the same home network as a Samsung Blu-ray player, users can control their Blu-ray player with ease and use the QWERTY keyboard on their devices for easy information input.
Parents will also be able to use Samsung's Kids service to access a variety of educational video-on-demand content across several categories – Communication, Exercise, Arts & Play, Science, Social Activity and Maths, and reward children with virtual stickers or other awards for a fun and interactive learning experience.