Combat rising energy costs with an eco-friendly home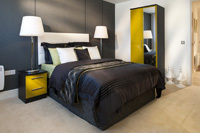 Crest Nicholson, the developer behind Park Central in Birmingham, is urging house hunters to consider the eco-appeal of a property before purchasing a new home in a bid to combat rising energy costs in the UK.
Energy prices soared by a fifth in 2011 heaping pressure on household budgets and bringing the average annual dual fuel energy bill to over £1,200, according to Uswitch.com, the online comparison site. In light of this, Crest Nicholson claims that purchasing an environmentally friendly home could save homeowners dividends on household outgoings.
Park Central has been designed to incorporate new building technologies and sustainable materials in order to make life more comfortable and affordable for homeowners. The homes are built with a number of eco-friendly features, including thermally efficient windows which boast special coated glass to help keep homes warmer in winter and cooler in summer. Each room benefits from individual room thermostats and all internal lighting is 100 per cent low energy, saving both electricity and money.
Ruth Williams, sales manager at Park Central says: "A new home is four times more energy efficient than an older house and with energy bills constantly rising our priority has been to continually look at ways in which to reduce energy usage and cost. In addition to the more efficient heating systems at Park Central, homeowners also benefit from Economy 7 which is a cheaper rate of electricity with dual rate metres. All the lighting we install is also 100 per cent energy efficient. Buying a new property at Park Central, where we focus on environmentally friendly policies, is a real investment which could dramatically reduce your household outgoings when compared to living in an older home."
Property expert Laura Henderson states that energy-efficiency measures can boost a home's value and 'saleability' whilst research by Energy Saving Trust confirms that purchasers are more willing to pay up to £10,000 more for an eco-friendly home.
Ruth continues: "Homes at Park Central don't compromise on design either. Our luxury apartments and townhouses boast contemporary kitchens, spacious living rooms and designer bathrooms, not to mention a stylish balcony overlooking eight acres of parkland in Birmingham city centre."
Park Central's designer kitchens have A-rated appliances (including a built-in oven, hob, extractor fan, fridge, freezer and dishwasher) which combine high performance with low energy use. Additionally, all kitchens are fitted with contemporary and water-saving Hansgrohe mixer taps which combine air with water to provide the water you need while reducing the amount of water you use – providing a saving in water, energy and costs.
"The best building features and innovations are almost invisible – you don't even notice them. You just notice that your home is more comfortable, more efficient and more economical. What's more, our stylish one bedroom apartments start in price from just £110,000, which really is great value for money."
As an industry leader in sustainability, Crest Nicholson is continually innovating to ensure that building materials are at the highest levels of sustainability whilst also being at the highest levels of building effectiveness. Crest Nicholson is working with the WWF-FTN (World Wildlife Fund Forest Trade Network) to ensure it can demonstrate ethical sourcing of the raw materials used to construct its houses.
For more information on Park Central, visit parkcentral.co.uk.