They're off! Londoners pick parks for Olympic escapes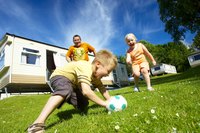 People planning to escape London during the 2012 Olympics have given a flying start to this year's holiday bookings at Park Holidays UK.

The major southern-based parks group reports a sharp rise in January bookings compared with this time last year, and suspects that "Olympic-phobia" is partly responsible.

"Everyone's looking forward to the games themselves, but not to the prospect of staying in the already congested capital during July and August," said Park Holidays UK director Tony Clish.

"The high volume of London postcodes on our bookings suggest that many families are planning to swap the razzmatazz of the event for more relaxing surroundings.

"Around eight million people live in London, and just a small percentage of those deciding to get away during the event will provide a big tourism boost to the regions," added Tony.

The 25-strong parks group says that bookings are up on all its holiday centres in southern England, Devon and Dorset - and that international visitors will swell numbers even further.

The reason, Tony points out, is that Britain attracts more than 30 million holidaymakers from overseas every year - very few of whom will actually hold tickets for the Olympics.

He believes that many, having seen reports about London being swamped with visitors during the games, will prefer to stay outside the capital but within travelling distance to it.

"Even when our holiday parks are full to capacity, there's no sense of being amongst a crowd because our accommodation and facilities are spread over many green acres," said Tony.

"That's why a park is a perfect escape from London, even if you are a resident in the city and just want to catch your breath for a while during the event," he suggests.

Park Holidays UK says it has decided not to raise its prices during the period of the 2012 London games - and is even offering early-booking discounts for the main summer weeks.

Tony also emphasises that the group is not promoting itself as an Olympics-free zone: "We will be going all-out to celebrate the event along with the rest of the country, and there will be wide-screen TVs in all our clubs so that no-one need miss the action," he said.

"All our guests will be missing is London's crowds and inflated prices - while helping to spread the economic benefits of the Olympics to the regions," added Tony.

The company's 2012 spring and summer holidays, and details of its early-bird discounts, are featured on Park Holidays UK's website at ParkHolidays.com.