Madrid - Lisbon by mountain bike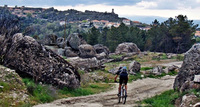 Madrid - Lisbon on MTB, the challenging mountain route has recently launched a project that aims to connect the capital city of Spain - Madrid to Lisbon the capital of Portugal on mountain bike, through a spectacular route on the Central Iberian Mountain Range all the way to the Roca Cape, the western point of Europe! This traverse has about 1200km and 28 000m of accumulated height in 15 stages. This crossing goes through the Guadarrama, Zapatero, Gredos, Las Hurdes, Gata, Malcata, Estrela, Açor, Lousã, Aires, Candeeiros, Montejunto and Sintra Mountains!
Crossing from Madrid, the capital city of Spain, to Lisbon, capital of Portugal in 15 days, finishing in Roca Cape - the western point of Europe; 1200km of off-road across forest tracks, gravel roads and steep single tracks over the highest slopes across the Iberian Peninsula until reaching the sea side, with nice cliffs over the Atlantic Ocean.
Always riding across very isolated and peaceful landscape and in self-sufficiency, this is a spectacular traverse like no other in Europe!
Why bike Madrid Lisbon:
The Iberian Peninsula is one of Europe best location to go Mountain Biking. With its best secrets still to be found, spectacular natural tracks that go for kilometers, and weather like no other place in Europe this is a scenic ride that will go on the memory of those who make the challenge.
Beautiful landscapes, historical sites, nice food and accommodation, Mountain range and seashore with spectacular beaches, Low-Cost flights into Madrid and out from Lisbon, these are some of the reasons to try this traverse.
For further information, visit bikemadridlisbon.com.