Olibrollies - the answer to Spring showers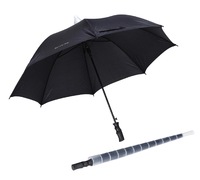 An innovative umbrella that banishes drips from cars and floors is available now from Oliveira, the online shop for designer shoes and accessories.

The smart black 'Olibrolly' comes with a telescopic non-drip cover that slides out to contain the full length of the closed umbrella.

Designer Maria Oliveira said: "The Olibrolly is our answer to British weather.

"We all tend to apologise for bringing dripping umbrellas into shops, offices or friend's homes – and get fed up with stashing rain-soaked brollies in our cars – or worse, our handbags!

"The Olibrolly is a simple solution that makes carrying a damp umbrella something of a proud pleasure!"

The lightweight umbrella (£15) opens at the press of a button and spans a shower-busting 1.2m in diameter when open.

It's one of an exclusive range of designer products from Oliveira, which has also just launched a collection of 'toe post' shoes – a distinctive new style of high heel that shows off feet to perfection.

Further details on the Oliveira designer range is available at oliveira.uk.com.