Wonderful and WonderCOOL - February in Copenhagen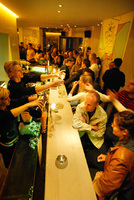 Wondering.....would you like the idea of a lumpfish roe safari by bike, followed by some midnight mussels and then some great rock music at the Museum of Natural History? Just head to Copenhagen in February and experience the bubbling cocktail of wonderful events during the winter festival, WonderCOOL.
Throughout February, the Danish capital is totally WonderCOOL, celebrating an eclectic mix of design, music, art, architecture, fashion and food. Copenhagen Jazz Festival, the Danish Design Centre, the Danish Architecture Centre, Copenhagen Art Festival, Copenhagen Fashion Festival, Copenhagen Cooking and the rock festival FROST, have all joined forces to make February the coolest time to be in Copenhagen.
Gobsmacking gastronomy
Copenhagen Cooking heats up its winter edition with a focus on Nordic food and the bounty of the sea. Why not join the lumpfish roe safari by bike, taking you to four excellent restaurants serving their own interpretation of lumpfish roe, Scandinavia's very own 'caviar'.
On 18 February take your night cap at Fiskebaren in Copenhagen's trendy Meatpacking District, when this outstanding fish restaurant will be offering Midnight Mussels to the rhythms of DJ Lulu Rouge.
For a more quiet gastronomic evening, book your table at the Admiral Hotel for the 26 February where ten of the best Nordic restaurants will offer tastings from their innovative menus or why not book tickets for the entire Copenhagen Dining Week 13- 19 February, where the best restaurants in the Danish capital offers three-course menus for just DKK 200 (terms & conditions apply).

Mad music venues
The FROST rock festival also hosts great events throughout February - some of them held in rather unusual venues. Ever been to an indoor gig surrounded by palm trees in a museum? Now is your chance! FROST offers stimulating music when sound experimentalists, Frisk Frugt (Fresh Fruit), perform in the Palm House of Copenhagen's Botanical Gardens on 25 February.
And on 23 February whenthe Danish band, Sleep Party People, performs in the shadow of giant whale skeletons, prehistoric animals and thousands of stuffed birds at Copenhagen's Zoological Museum.
On the jazz front, well-known musicians such as Jack DeJohnette and Palle Mikkelborg, as well as newer acts, such as Pistol No.9 and Japgaf figures on the programme. The jazz concerts are taking place at various venues in the city.
Royal art
To mark HM Queen Margrethe II's 40th Jubilee, ARKEN Museum of Modern Art, is showing a major exhibition called 'THE ESSENCE OF COLOUR' focusing on the Queen as an artist. Throughout her artistic oeuvre, the Queen has demonstrated a special interest in and a special talent for expressing herself through colours. The exhibition runs from 28 January to 3 June 2012.
Another art event not to be missed is the exhibition 'Hammershøi and Europe' at the National Gallery of Denmark. Hammershøi is often described as a unique figure in both a Danish and European context. The exhibition will explore the interplay between the art of Vilhelm Hammershøi (1864-1916) and European painting of the time. Amongst many others, works by Whistler, Carriére, Fantin-Latour, Gauguin, and Khnopff we be showcased. The exhibition runs from 4 February to 12 May 2012.
Design, architecture and fashion
The Danish Design Centre takes visitors on a journey through the history of Danish Design from 1945 and up to the present. The Design Centre also hosts the exhibition '10 years of Dansk' focusing on Danish fashion within the last decade and the future decade to come. Having had a crash course in recent Danish fashion, head to Apair, one of Copenhagen's hottest shoe stores, for a fashion show featuring top Danish footwear design talent.
Start your Sunday morning at the Danish Architecture Centre, which offers guided tours taking you past the many architectural wonders of Copenhagen. After a dash of fresh air, it is time to continue the architectural journey at the New Carlsberg Brewery. From 24 to 26 February, Carlsberg invites visitors inside for a two-day cultural event focusing on its own iconic architectural masterpiece with lights, sound, exhibitions as well as bar events and talks.
There is just too much going on to list here, so please take a look at wondercoolcopenhagen.com the full list of 100+ events that makes Copenhagen so cool during February.
Getting there...
Flight time to Copenhagen is less than two hours. SAS Scandinavian Airlines offers direct flights from Aberdeen, Manchester, Birmingham, London Heathrow and Dublin.
Easyjet offers daily flights from both Stansted and Gatwick.
More travel information...
For all information on travelling to Denmark, please go to: visitdenmark.com.
For all aspects of a great weekend in Copenhagen including accommodation: visitcopenhagen.com.