Kalixa celebrates 3rd birthday with free* card giveaway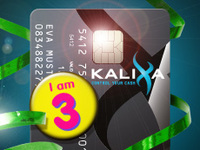 Kalixa, the prepaid MasterCard from Vincento Payment Solutions Ltd., is three years. To celebrate this occasion, for the next 14 days, each new customer will receive a free Kalixa prepaid MasterCard when making a first deposit of £50 or more.
In just three short years, the benefits of a pay-as-you-go MasterCard, combined with Kalixa's fair and transparent fees, have established Kalixa as a market-leading prepaid card – and a real alternative to a credit card.
With thousands of new customers signing up each week, Kalixa is well established in the United Kingdom, Germany and Italy, and is on track to expand into Spain and the Netherlands within the next two months.
"We're really pleased that Kalixa is becoming more and more popular every day," says Suresh Vaghjiani, Head of Product Management at Kalixa's issuing bank, Vincento Payment Solutions. "We've worked hard over the past three years to improve the features of the card, and we've spent a lot of time optimising our fees. The positive feedback we're continually receiving proves we're on the right track."
To celebrate this milestone, the usual card fee of £4.95 will be waived for all new customers who sign up between 1st and 14th of February and make a first load of £50 or more.
*Minimum initial load of £50 required
For further information about Kalixa, visit kalixa.com.