Saddle up for some half term rodeo fun in Kissimmee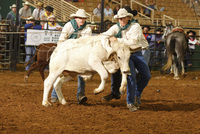 If you are planning on spending half term in Central Florida and want a day out with a difference, whilst raising money for a good cause, then grab your Stetson and head down to the Silver Spurs Rodeo in Kissimmee.
The 128th Silver Spurs Rodeo is running a special promotion this year to benefit cancer patients with 'Tough Enough to Wear Pink' on 17th February 2012. Not only will the Silver Spurs Riding Club members wear pink to show their support for the fight against breast cancer but club volunteers will also donate their locks towards the making of wigs for cancer patients.
Before the first bucking bull enters the rodeo, stylists from the Double J Salon and Spa will be on the arena floor cutting donors' locks. During the rodeo, supporters of the cause with more than 8 inches of hair that they want to donate can visit the temporary salon set up on the concourse at the Silver Spurs Arena.
In addition to the breast cancer promotion, visitors will be entertained by bull riding, steer wrestling, saddle bronc riding, bareback riding and barrel racing plus some cowboy clowns. This bi-annual event is where the country's toughest cowboys go head-to-head with the country's nastiest bulls and saddle broncs.
Kissimmee's cowboy and rodeo tradition dates back to the 1500's when Spanish explorers landed on the coast of Florida with vast numbers of cattle, some of whom escaped and went on to breed in the wild.
The Silver Spurs Rodeo was founded in 1994 and has grown to become one of the most successful rodeos in the country. It runs from February 17-19 with performances at 7.30pm on Friday and Saturday and at 2pm on Sunday.
Tickets cost $15 per adult and children under 10 get in for free when accompanied by a paying adult. For further details and to book tickets, visit silverspursrodeo.com.