Delicious chocolate recipes on Divine's free app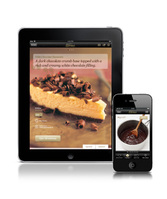 Divine, the farmer-owned chocolate company, is delighted to announce the launch of the new Divine Chocolate App for the iPhone and iPad.

The Divine App is free to download and is a fresh and exciting new way for chocolate lovers to discover the world of Divine - it's packed with exclusive video content, irresistible recipes created by chocolate experts & celebrity chefs, and includes a Google Map guide to your nearest Divine stockist for when you're out and about. In addition it tells the unique story of Divine, the company co-owned by cocoa farmers in Ghana.
Created for Divine by creative agency Uber London, the Divine App was designed to bring a little Divine happiness to every Smartphone and iPad - with exclusive features for those who love baking with chocolate. There is a diverse selection of recipes for cooks of all standards, including a heavenly white chocolate cheesecake, an old fashioned chocolate pudding, chocolate & cherry torte, a chocolate fudge cake created for Divine by Tom Aikens, healthy chocolate pots created for Divine by Ian Marber aka The Food Doctor, a seriously tempting sticky peanut butter cake created by Linda Collister, author of the recipebook accompanying BBC2's Great British Bake Off ... and lots more. The Divine App will be updated periodically with new recipes and features, including great seasonal ideas using Divine.
With the Divine App to hand you will always be able to find your nearest Divine stockist wherever you are in the UK, be it a supermarket or an independent deli, wholefoods store or gift shop. Divine is found in many surprising outlets so this feature will be an invaluable tool when searching for your next Divine treat or ingredients for one of the Divine recipes. iPhone users can also add the name and address of a Divine stockist if they find one that's not yet listed.
The app also features a Quick Tips section of short and informative videos demonstrating some chocolate baking basics. These include essential kit, melting chocolate, ingredients, and greaseproofing.
Search for 'Divine App' on the App Store (in the Lifestyle category). It's free to download.