Brand new luxury African beach yoga and safari package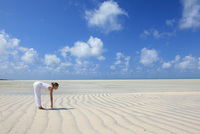 New for 2012, travel specialists Scott Dunn have launched an exclusive Tanzania safari and Mozambique beach yoga itinerary. Pairing up with Vamizi Island's brand new yoga retreats in Mozambique and Selous Safari Camp in Tanzania, this package offers the very best in African adventure as well as holistic luxury.
For those wanting to explore lesser-known southern Tanzania, the Selous Safari Camp offers the perfect sophisticated safari experience. Situated within an open palm forest on the shores of Lake Nzerakera in the Selous Game Reserve, guests can enjoy daily walking and boat safaris in one of Africa's least known, yet wildest, conservation areas.
And after discovering the wilds of Tanzania, guests can revive, restore and rejuvenate on Vamizi Island, an ultra-luxurious private beach lodge on the Quirimbus Archipelago, Mozambique.
Celebrating the launch of its first dedicated retreats, visitors can enjoy morning vinasa yoga on the shoreline followed by a freshly-prepared juice or smoothie from the island's 'natural pharmacy' and an evening session against the setting sun - both hosted by renowned instructor Claire Finlay. This exclusive package also offers guests the chance to sample reviving spa treatments, take to the seas to catch surf-fresh tuna sashimi and dive the island's azure waters.
The exclusive Tanzania Safari and Vamizi Spa Retreats package is only available for limited weeks in 2012 from £4,405 per person. Valid for the weeks commencing 1 March and 6 November, the price includes three nights at the Selous Safari Camp on a full-board basis with daily safari activities and five nights at Vamizi Spa Retreat on a fully-inclusive basis to include twice daily yoga sessions, one spa treatment, dive and fishing trip per stay. The price also includes return flights from London, taxes, domestic flights and transfers.
For further information, visit scottdunn.com.