Redrow's Vision development allocated £2m Government funding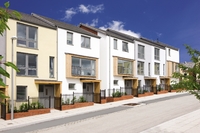 Redrow, named large house builder of the year at 2011 What House Awards, has been allocated funding for 74 homes at the Vision development in Devonport Plymouth.
The Vision development is part of an innovative public sector led regeneration project that is a strategic priority within the Plymouth Local Investment Plan and the South West region as a whole.
The development is currently on track and the £2m allocated by the 'Get Britain Building Campaign' will be in addition to Redrow's own multi million pound commitment. The development will finally consist of 460 new homes, apartments, shops and community facilities.
The Vision development returns a significant piece of land back to the community. For over half a century the area was MOD land and closed off to the public. Only last week Redrow announced that the section of Fore Street that had been closed to the public for over 50 years had been returned to the community once more.
The homes on the development range from family homes to apartments and demand has been strong in a depressed market.
Barry Stiles, Regional Director Redrow, commented: "We are very proud to be involved in such an important regeneration project, returning an important part of Devonport back to the community. The allocated funding from The Get Britain Building Scheme is crucial to ensure the project is completed on time and on budget. The Vision development has already proved popular with local home buyers and we look forward to creating a thriving community in this part of Devonport once more."
One bed apartments at Vision are available from £94,995; three and four bedroom houses are available from £158,995.

For further information, visit redrow.co.uk.