Chevrolet Cruze Station Wagon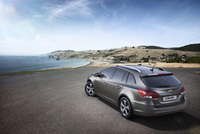 In China, it's the Year of the Dragon – but for Chevrolet, 2012 is very much the Year of the Wagon, with an all-new version of the million-selling Cruze making its debut at next month's Geneva Motor Show.

Chevrolet has really pumped up the volume (to almost 1,500 litres of load space) with the latest body style of its most popular model, which complements the saloon and hatchback versions. Together, these have achieved combined sales across the world of over one million since the saloon variant debuted in 2009.

"The Cruze Station Wagon caters to an important market segment. It ticks all the boxes for European drivers in terms of distinctive design, dynamic driving, space and economy," said Chevrolet Europe President and Managing Director Susan Docherty.

It features generous storage space and a choice of powerful and efficient engines, including a new 130bhp 1.7-litre VCDi diesel engine, with start-stop technology as standard and CO2 emissions of 119g/km.

At 4,678mm, the Station Wagon is slightly longer than the hatchback (4,510 mm) and saloon (4,597 mm) models. Load space ranges from 500 litres up to the window line in the rear to nearly 1,500 litres up to the roof top with the rear seats folded down.

The Station Wagon is immediately recognizable as a new variant of the best-selling Chevrolet Cruze, double winner of the world Touring Car Championship. The exterior design features a tapering single arch roofline and comes with roof rails as standard, providing convenience while maintaining a poised and sporty look.

A number of exterior and interior styling changes are being introduced in 2012 for all Cruze models. These include a remodeled front fascia, modified head-lamp interiors and fog lamps, and new wheel styles on the exterior and refinements to the center console and a greater choice of seat finishes for the interior.