Buyers stream to Jewellery Quarter launch event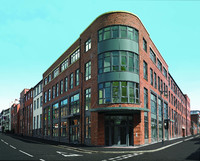 Househunters from across the city attended a champagne launch event last weekend to toast the brand new courtyard at a stylish Birmingham development.
The new courtyard at The Quarter, Morris' city centre development of cosmopolitan one and two bed apartments in the Jewellery Quarter, has a communal terrace and timber seating and provides a great location for residents to relax away from the hustle and bustle of work life.
Buyers at the development's event that reserved an apartment also bagged a floorings and blind package, a £1,000 Selfridges voucher to kit out their new home and will have their legal fees paid by Morris.
Cindy Vials, regional sales director for Morris, said: "The event was a great success, and househunters came from across Birmingham. It was a fantastic opportunity to showcase the brand new courtyard to prospective buyers, and we have already seen an increase in reservations at The Quarter."
The apartments at The Quarter are available using the Government-led FirstBuy scheme. Under the scheme, first time buyers are able to purchase a property at 80 per cent of its market value. This reduces the size of the deposit needed and lowers mortgage payments.
Cindy added: "FirstBuy is a great incentive for first time buyers to take that first step on the property ladder, particularly when a much smaller deposit is needed.
"It's a fantastic way for young professionals and couples to purchase a stylish apartment in the heart of Birmingham's iconic Jewellery Quarter, with fabulous access to a host of bars, shops and galleries."
Morris has a selection of apartments available at The Quarter available from £99,950* under the FirstBuy scheme.
For more information on properties and schemes at The Quarter visit thequarterbirmingham.co.uk.

*Price quoted at 80 per cent of its marketed price under the FirstBuy scheme, subject to terms and conditions. Price is correct at time of going to press.