Mini-boom in the French Alpine property market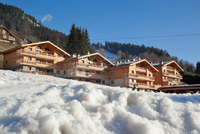 Predictions made last year by a London-based expert on the ski property market in the French Alps have come true.
Commenting on the market in September last year, Richard Deans predicted that the 1.2 per cent Sterling pound / Euro exchange rate would be restored around the turn of the year, triggering a mini-boom.
Richard, who heads the UK sales office of MGM French Properties, says this is exactly what has happened. The firm's sales to UK buyers in January were more than three times the number achieved in the same month last year and the trend is continuing, despite the fact that the typical price of a two-bedroom apartment from MGM has doubled to around €400,000 in the past five years.
Says Richard: "While many firms were enjoying a break between Christmas and New Year, we became very busy during the last week of December, dealing with a huge number of new enquiries from what I describe as 'true buyers, not dreamers.'
"It seems that many of them had just been waiting for the exchange rate to go back to 1.2 per cent – significantly reducing their outlay on a new ski property compared with the amount they would have paid a few months ago – and now they are making firm decisions.
"This winter's great skiing – enhanced by exceptionally high levels of snowfall across the French Alps – was the catalyst which encouraged many of them to act but skiers are not the only ones taking a keen interest in our developments; increasingly Britons are buying not only because they enjoy the lifestyle in the French Alps but also because they realise that putting their money into property in good locations, like top ski resorts, can offer better returns than the continuing uncertainties of the stock market."
Typically a two-bedroom apartment in an MGM résidence de tourisme purchased on a leaseback basis comes with a guaranteed gross annual rental income of around €5,500 as well as three, four or six weeks of personal use of the property.
All 16 of the résidences managed by the MGM Group subsidiary CGH were fully-booked throughout January, despite the fact that traditionally there is a lull between the new year and half-term holiday periods.
Many of MGM's ski apartments occupy year-round locations which are popular for hiking, biking, riding, climbing and other outdoor activities in summer as well as skiing and snowboarding in the winter months. Underlining the popularity of typically French market towns and villages like Samoëns and Les Carroz d'Araches – only one hour by road from Geneva Airport with scope to live all year round in an established community – is the way in which the selling prices of all the properties which have changed hands in Samoëns have risen by an average of 7.5 per cent in the past 12 months.
"Far from deterring buyers, this has helped to emphasise the investment value of properties in locations like these", reports Richard who says that, while affluent cash buyers in their forties and fifties are in the vanguard of those opting for MGM's properties, young professionals and skiing families continue to be traditional purchasers.
This year MGM is meeting all their expectations with properties available to buy in more than 25 mountain locations at prices ranging from €174,000 to more than €1.5 million, depending on property size and location.
For more information about the properties available from MGM in the French Alps, visit mgmfrenchproperties.com.