Miller Homes helps to conserve garden wildlife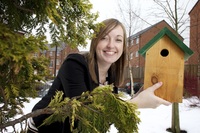 For the last decade, between 14th and 21st February, National Nest Box Week has been an annual event, encouraging the nation to provide nest boxes for its garden birds.
And, in recognition of encouraging wildlife and garden birds to as many parts of the region as possible, Miller Homes Yorkshire, is providing a new home for our feathered friends with every house purchased over the month (February 14th – March 14th).
"We are keen to help purchasers on our developments create wonderful outdoor spaces for themselves and wildlife," commented Jan Hanaby area sales manager Miller Homes Yorkshire. "By supporting this initiative, we are encouraging buyers to not only consider how they design their exterior space as well as their interior but also to consider and help the native wildlife that is on their doorsteps and with spring just around the corner it is a great time to start."

National Nest Box Week is organised and administered by British Trust for Ornithology (bto.org/nnbw) and it is estimated that 5.6 million bird boxes have been installed in our gardens and woodland during that time. The awareness week aims to help enhance biodiversity and conservation of our breeding birds and wildlife.

"In addition to providing house buyers with a home for our native garden birds, we can help make the house buying process even more enjoyable with a range of incentives and properties," said Jan. "Perhaps as birds swap from their old haunt to a delightful new nest box you too could exchange old for new with our unique home exchange scheme."
Miller Homes' home exchange scheme allows buyers who qualify to easily exchange their old home for a new Miller one. Traditional part exchange usually requires a home owner to purchase a property worth at least 30% more than their existing home to qualify. Miller Homes' initiative marks a radical departure from this allowing you to move up, across or down the ladder. The housebuilder also offers other purchase incentives including MiWay, its own equity share scheme which assists buyers who may be struggling to find a deposit and Deposit Match.
Miller Homes Yorkshire has a range of properties available from £74,500 for a one bedroom apartment or, if a five bedroom luxury home is what you're looking for then you could pay from £325,000.
Further details regarding initiatives, property types and developments can be found by visiting millerhomes.co.uk.