Hyatt Regency Aruba launches new ZoiA Spa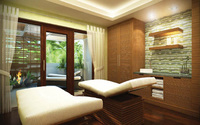 The 5,200 square-foot ZoiA (meaning 'balance' in Papiamento, the local language) offers an indoor/outdoor experience and an extensive spa menu of luxurious treatments and native ingredients such as Aruba aloe vera.
The Aruba-inspired, all-natural treatments are based on the colours of the Aruban flag (yellow, white, blue, and red) and four key Caribbean elements:
Sun signifies energy and is represented by the colour yellow. Sun treatments are geared towards brightening and revitalising the skin through the use of botanical blossoms.
Sand is reflected by the colour white and evokes purity. Through the use of Aruba's mineral-rich mud, these treatments are designed to detoxify and rid the skin of any impurities.
Sea treatments, represented by the colour blue, aim to make guests feel completely relaxed, just like the serenity felt when hearing gently crashing waves.
Love represents devotion and commitment. These treatments incorporate Aruba's indigenous aloe plant and help guests achieve a sense of wellbeing through the use of traditional island methods. An aloe garden located in front of the spa further encapsulates the theme and demonstrates the importance of Aruba's multidimensional plant.
Featuring eight treatment rooms, ZoiA Spa also offers antioxidant-rich ingredients and products such as Kerstin Florian International skin and body care and Naturopathica, an organic product line incorporating aloe and natural botanicals.
Additionally, hand-pressed oils and home-grown herbs are available as a staple in all service offerings and experiences, while the ZoiA Salon features a wide variety of hair, nail and makeup services for guests, locals and bridal parties.
For more information about the Hyatt Regency Aruba visit aruba.hyatt.com. For more information on visiting Aruba please go to aruba.com.