Part exchange results in a surprise for Grimsby family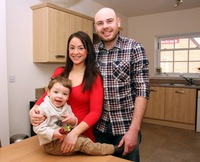 When Tom and Amy North started house-hunting to find an area with a good school for their son, little did they know they would soon be getting some very familiar neighbours!
The couple have recently set up home with two-year-old Benjamin at Linden Homes' prestigious Renaissance development in New Waltham.
After having their existing Grimsby property on the market for more than six months, Amy and Tom were thrown a lifeline through Linden Homes' part exchange scheme.
By opting for Part Exchange the family were able to move into their brand new four-bedroom, home hassle free – leaving Benjamin to enjoy a new bedroom AND a playroom.
Amy (27) said: "We wanted to move to an area with good schools for our son, and whilst we weren't looking for a brand new home in particular, the Renaissance development ticked all the boxes for us.
"The part exchange scheme was so simple and straightforward, with Linden Homes obtaining independent valuations on our existing property on our behalf. We would have never been able to move here so quickly without the scheme given the time our existing home had already been on the market."
However, the couple originally had their eye on the property next door – but it was only after sheet metal worker Tom (32) showed a photograph of the design to work colleague Ben Tiffney – that Ben and his family decided to buy it instead!
So, with a new baby on the way, Ben and his wife Kelly have taken on the recommendation from the North family to become their new next door neighbours.
A selection of two, three, four and five bedroom homes and two-bedroom cottages are currently available at Renaissance with prices starting at £119,950.

If you are a homeowner and are eligible for part exchange, here's what happens:

Linden Homes will arrange for at least two independent valuations of your existing home and will make you an offer based on their suggestions.

Once you agree the offer, and subject to satisfactory surveys, Linden Homes becomes your buyer, freeing you up to put in reservation on your new home.

After that, it's a case of setting a moving-in date, boxing up your things, and basking in the relief of a quick chain-free move to the home of your dreams.

You can stay in your existing home until your new one is ready.

For more information, visit lindenhomes.co.uk.