Why should love just be for Valentines?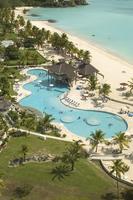 Why should February the 14th be the only day to show your loved ones how much they mean to you? At Antigua's Jolly Beach Resort & Spa they are continuing to show how much they care by offering the UK's most romantic couple the chance to win a 7-night all-inclusive stay for two. All they ask in return is for them to share their most romantic moment.
Inspiration for this contest was close to home as the resort's General Manager, Vernon Jeffers, and his wife are celebrated their 17th wedding anniversary on Valentine's Day - a romance that really did start with love at first sight. Couples are invited to share their favorite romantic moment – their first meeting, a proposal, a surprise, or savvy ladies may wish to take advantage of the 2012 leap year and capture the moment! Jeffers and his panel of judges will choose their favorite from North America, Europe and the Caribbean, awarding three 7-night all-inclusive stays for two including a couple's massage, and a dinner hosted by Mr. and Mrs. Jeffers. Couples will also have their choice of a Dream Wedding Ceremony for two, a Renewal of Vows Ceremony for two, or an intimate Champagne dinner for two – all courtesy of Antigua's favorite all inclusive resort.
The Celebrate Love contest began February 14, 2012 at 12:00 am Antigua time (- 4 hours GMT) and ends on March 14, 2012 at 11:59 p.m. Entries must be submitted via the Jolly Beach Resort & Spa website, jollybeachresort.com/romance, where winners will be announced on March 21, 2012 at 12:00 Antigua time. Terms and conditions apply.
Jolly Beach Resort & Spa is located on a mile-long white sand beach - the perfect setting for a romantic getaway or a Caribbean wedding and honeymoon. The resort is renowned for its hospitality and welcoming staff who go out of their way to make guests feel like family. An array of amenities from watersports to children and teen's programs are all included and nightly entertainment options include floor shows, gaming tables and slot machines at The Casino at Jolly Beach (owned and operated by King's Casino) The Palms Wellness Centre and Spa pampers guests with a full menu of treatments, massages and beauty services.
For romantics who can't wait to win and want to get away now the resort features in most leading UK tour operator's brochures including Virgin Holidays, Tropical Sky, Kuoni, Hayes & Jarvis, Thomas Cook Signature and Thomson Tailormade.
British Airways are currently offering 7 nights at Jolly Beach costing from £858 per person and includes flights, taxes, (local transfer optional), all inclusive accommodation in supersaver room. Valid for departures from London Gatwick on British Airways with departures between 06th June – 13th June 2012. Contact britishairways.com for more information. Booking conditions apply.
For further information on the resort and wedding packages visit jollybeachresort.com.