Luxury eco safari camp returns to the Sahara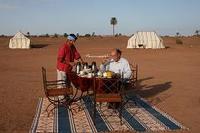 UK tour operator Specialist Morocco has re-opened its 4 star safari eco-camp in the Sahara Desert for the coming season.
The stylish camp is located in the deep south of Morocco, in the region of the southern Draa Valley and M'hamid. It consists of eight, individual safari-style Caidal sleeping tents (a choice of twins, doubles or a family tent), with a Moroccan twist.
The tents all have ensuite bathroom sections with hot Saharan-style bush showers and bio loos.
There is also a large salon tent in which to relax or eat meals, prepared by Berber chefs using ingredients sourced from the fertile Draa Valley. It is serviced by a full-time team of three including the camp manager, Younes.
Typical meals include a choice of meat or vegetable tagine, couscous and salads (the chefs also prepare picnic lunches for excursions). Breakfasts consist of Moroccan pancakes, freshly baked bread with jam and honey.
Solar panels provide the energy to run the camp's lanterns (and to recharge batteries) and there are also traditional candle lanterns – perfect for a romantic Moroccan meal, enjoyed alfresco under the stars.
Despite its remote setting, there is a choice of activities to enjoy including camel trekking tours, visit to the dunes of Chegaga, guided walks to adobe villages, 4x4 desert discovery tours, nomad encounters and night-time star gazing.
From Marrakech, the camp can be reached in as little as 7 hours by road, on a scenic drive across the High Atlas, with a visit to the UNESCO World Heritage site of Ait Ben Haddou and a lunch stop along the way. The final part of the drive is along the palm-fringed plantations and fields of the Draa Valley to Zagora. If flying to Ouarzazate, the journey time is reduced to 3.5 hours.
Prices start at £45 pp per night (two sharing) which includes breakfast, dinner, tea and coffee. Alcoholic drinks are available on request.
For further information, visit saharasafaricamp.co.uk.