Morris helps couple move to dream home in Oldbury in just 8 weeks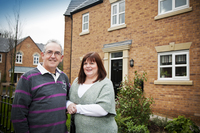 Local housebuilder Morris has helped a couple struggling to sell their house to complete a stress-free move into their dream home in just eight weeks at its stunning Oldbury development.
Julie Price, an executive assistant, 49, and John Pettipher, a CCTV engineer, 53, viewed a three-bed Dalton property at The Forge development in Oldbury, and using Morris' Part Exchange scheme purchased the home less than eight weeks later.
The scheme means people like Julie and John can escape long chains and move quickly using Morris' expert support. Under its Part Exchange scheme Morris will buy a househunter's current home for 100 per cent of its market value, removing the hassle of selling it.
Julie said: "As soon as John and I saw the beautiful new build homes at The Forge we knew that there was nowhere else we wanted to live. We required a quick move, and when we saw that we qualified for the Part Exchange scheme we knew this would help simplify the moving process for us.
"We put down a deposit on the Dalton home that we had fallen in love with, and Morris bought our old house. Morris then sold our previous property in just three days, and gave us £500 because it went so quickly.
"We were able to pick the units that we wanted in the kitchen, and we chose the flooring throughout the house. It took just seven weeks and five days to complete the move, and we received fantastic help and support from everyone at Morris - they really cared about making the process as smooth as possible for us.
"It was a wonderful feeling to move into a ready-made house and simply enjoy it. On our first evening I turned to John and said 'it feels like home already,' and we'd only been there for a few hours."
The Part Exchange scheme is available on properties at Morris' popular Oldbury development, The Forge, which has great access to the M5 and nearby Birmingham.
Jo Winston, sales advisor for Morris, said: "Selling your current home is often the biggest challenge for most buyers, but our Part Exchange scheme removes this obstacle and speeds up the moving process.
"The scheme is very popular with buyers at The Forge, and we are thrilled to see how quick and hassle-free Julie and John's move to a beautiful Dalton home was.
"We are keen to hear from househunters interested in any of the schemes offered on properties at The Forge."
Morris currently has a selection of three and four-bed properties available at The Forge using the Part-Exchange scheme starting from £169,750.
For more information about the schemes and properties available at The Forge visit morrishomes.co.uk.