Top fashions cost less in Cannes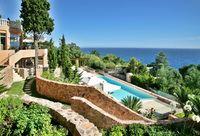 Cannes rolls out the red carpet for the annual Cannes Shopping Festival in late April. Four days of glitzy fashion shows and gala events at the Palais des Festivals attract some of the biggest hitters from the world of fashion.
Each year, the likes of Salvatore Ferragamo, Kenzo and Valentino are present at the festival to present their spring ready-to-wear collections, and although the high-profile catwalk shows are reserved for professionals, it's still very much worth a trip to Cannes to soak up the atmosphere.
Visitors can take in Cannes Fashion, an exhibition dedicated to the newest names on the block, and best of all, during the Cannes Shopping Festival boutiques and stores throughout the city offer huge discounts, meaning fabulous savings for fashionistas and devotees of the catwalk from Saturday 21 until Tuesday 24 April 2012.
Award winning AiTO tour operator, Classic Collection Holidays, features three hotels in or near Cannes, including the prestigious International Carlton Cannes, located in the heart of Cannes and the boutique Tiara Yaktsa Cannes, 12km to the east of Cannes in the delightful sea-side village of Theoule-sur-Mer. Set amidst fragrant and beautifully manicured gardens, this undeniably romantic hotel boasts intimacy and superb service in equal measure.
Each of the 21 guest rooms and suites are individually decorated to the highest standards. Prices start from £749 per person for 3 nights based on 2 adults sharing a double sea view room on a bed & breakfast basis during April 2012. Price includes return flights from London Gatwick (other UK departure airports available) to Nice. Supplements for suites start from £147 per person per night.
For further information, visit classic-collection.co.uk.