Behind the scenes with British fashion designer Louise Gray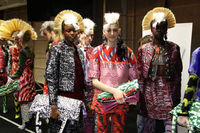 Scottish designer Louise Gray lit up London Fashion Week once again as she unveiled her Autumn/Winter 2012 collection at the Topshop Venue in East London.
A rising star in the fashion industry, Louise has quickly established a name for herself, being hailed as the 'one to watch' by British Vogue. Her design signatures include use of bright hued garments and experimental tactile texture, all characterised by a sense of clever wit. Contrast is key and Louise reworks traditional stitches and embroidery techniques in refreshingly modern designs.
Celebrating her seventh season at London Fashion Week, Louise's Autumn/Winter 2012 collection is inspired by the artists Jim Dine and Sarah Lucas, as well as American rock band, Blondie. With a simplified look at patterns than previous seasons, the latest collection incorporates U.S. cotton into graphic shirts that are set to be key pieces in the Autumn/Winter 2012 look.
Continuing its commitment to the fashion leaders of tomorrow, COTTON USA once again made Louise their sponsored designer at London Fashion Week. This marks the fourth season Louise has been awarded this sponsorship, making her the longest running recipient of the accolade. The COTTON USA sponsorship programme, entering its eighth year, is much sought after by aspiring designers. It offers a valuable boost to those looking for ways to grow and improve their work. Previous winners include: Richard Nicholl, Meadham Kirchhoff, Nathan Jenden, Sinha-Stanic, PPQ, Preen, Gardem Paris and Deryck Walker.
"Sponsorship when you are emerging onto the fashion scene is vital for new designers. Working with COTTON USA for the fourth time has provided me with a fantastic platform to showcase my collection at London Fashion Week and also incorporate U.S. cotton as an integral part of my new range," said Louise Gray when asked about what the sponsorship meant to her.
In this video we catch up with Louise in the run up to the show to discuss the influences behind her latest collection and then go behind the scenes of her London Fashion Week catwalk show as her latest collection is finally unveiled.