Get active in the Czech Republic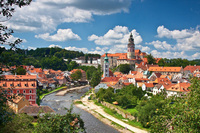 Go water rafting in Cesky Krumlov, horse riding in Holasovice, on a segway tours in Brno or spa treatment in Lednice. Get scared on a ghost tour in Prague, visit chateaux underground in Litomysl or vampire's home in Zdar nad Sazavou. Be sure that if you plan to travel to the Czech Republic you certainly will not be bored.
See the complete list of Czech UNESCO sites below:
1. BRNO - the Moravian capital Brno was inscribed to the UNESCO list thanks an outstanding example of functionalist interwar architecture and a milestone in the development of modern architecture worldwide - villa Tugendhat - villatugendhat.eu
Activities: Explore the city on the Segway tours - segwayguidedtours.com
2. CESKY KRUMLOV - charming atmosphere of this historic town in South Bohemia attracts thousand of visitors each year making it one of the top tourist places in the county. The town is located at the meanders of the Vltava river below the Cesky Krumlov castle.
Activities: Get to know the town and its surrounding while rafting, nordic walking or cycling ckrumlov.info or visit Egon Schiele Art Centre - schieleartcentrum.cz
3. HOLASOVICE - this village is considered a true pearl of rustic Baroque style. Its 22 painted farmhouses are situated around central pond which was used for breeding freshwater fish, the entire area is still known for fish industry.
Activities: Learn about life of local people at the folklore museum or explore the area on a horseback or carriage ride - selsky-dvur-holasovice.cz/kontakt
4. KROMERIZ - the splendid Kromeriz chateau and its beautiful gardens in Central Moravia are considered an exceptional and very well preserved example of Baroque design.
Activities: Walk through the chateau gardens or take a houseboat cruise on the Bata canal - batacanal.cz or vychodni-morava.cz/en
5.KUTNA HORA - a lovely town about 1 hour east from Prague used to be centre of silver mining in the Middle Ages. It features some of the best examples of gothic and baroque architecture in the country - churches, castles and mansions. Admire silver mining museum or take a ghost-like tour to the Ossuary - 'Bone Church' with a crypt entirely decorated with human bones in the 17th century.
Activities: visit local wine making company with 1000 year tradition vinokutnahora.cz or Alchemy Museum alchemy.cz/museum or take a bobsleigh ride bobovadrahakutnahora.cz
6. LEDNICE AND VALTICE complex in south Moravia consists of various chateau buildings and decorative garden structures set amidst ponds and woods.
Activities: the area is crisscrossed with a dense network of hiking and biking trails and is perfect for exploring in combination with wine-tasting - jizni-morava.cz, try wine tasting at Valtice Chateau salonvin.cz
7. LITOMYSL - the main attraction in this East Bohemian town is the Renaissance chateau with exceptional examples of original Italian arcaded structure and sgraffito facade.
Activities: classical music fans might be interested in annual international opera festival Smetana Litomysl - litomysl.cz or smetanovalitomysl.cz
Climb up the Red Tower with great view of the town or get down to the chateau underground vaults for a bit of adventure zamek-litomysl.cz
8. OLOMOUC - this Moravian city boasts collection of Baroque architecture second only to Prague. The most precious monument is the Baroque column located in the main historic square. olomouc.eu
Activities: go rafting through the city on the Morava river, night trips with illuminated boats and multiple day trips out of the city are available perej.cz
9. PRAGUE - a stroll through Czech capital city can be compared to a walk through history of European architecture. Prague Castle and Old Town Square are only cream on top of this delicious cake.
Activities: apart from city ghost walk tour praguewalks.com and other walking tours don't miss boat cruise or climb up the Petrin tower for new perspective - praguewelcome.cz
10. TELC - the picturesque town located in the centre of the Vysocina region is famous for its huge town square with a unique complex of Renaissance and Baroque houses.
Activities: the region is ideal for outdoor actitivities like horse riding, cycling, walking - telc.eu
11. TREBIC renown for Jewish Quarter - the town used to be an important centre of Jewish culture in Moravia and it boasts superbly preserved part of Jewish ghetto. The medieval atmopshere of crooked lanes is accompanied by Romanesque-Gothic Basilica of St. Procope and the Trebic chateau
Activities: cruise the Dalesicka Dam on a boat - dalesickaprehrada.cz or have fun and challenge your abilities at the outdoor rope climbing centre pavouk.unas.cz
12. ZDAR NAD SAZAVOU features a remarkable five-point star structure of the local monastery built in the 18th century to commemorate famous Czech martyr John of Nepomuk. This unique architectonic gem is still used as a pilgrimage place.
Activities: visit the local cemetery where the last Czech vampire is rumoured to operate - zamekzdar.cz
More information, visit czechtourism.com/what-to-see/unesco.aspx