Textile recycling company shortlisted for prestigious award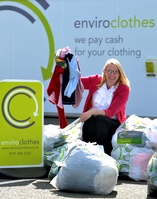 North east based, enviroclothes, has made it to the final three in the 'Newcomer of the Year' category in the North East Business awards, organised in association with North East Chamber of Commerce.
In a category sponsored by Virgin Money, the newcomer award is looking to reward and recognise entrepreneurial drive, innovation, financial acumen and ambition in companies less than three years old. In a category of three the ultimate winner of 'Newcomer of the Year' will be announced at a black tie dinner on March 22nd 2012.
enviroclothes is an innovative service that rewards its customers for recycling unwanted clothes and textiles. It's a free recycling service that pays its customers for their unwanted items, preventing them from becoming landfill. Items are weighed and customers receive their cash immediately.
"We have grown rapidly over the past two years and we are delighted to be recognised in these prestigious awards. It is testament to the hard work and efforts of every employee and I'd like to thank them and congratulate them on this achievement," said Laura Greener, management systems manager, enviroclothes. "As a business we want to make it easier for people to recycle their unwanted clothing. It is not that people do not want to recycle but they have time constraints and do not know how easy it can be. As well as installing drop off points at retail parks across the north east, enviroclothes also offers home collections and works with groups and charities to support their fundraising efforts."
Following the company's launch in May 2009 turnover and profits have steadily increased with greater awareness and use of the recycling service over the first two years of trading. The company now employs 25 people and has collected over 2000 tonnes of unwanted clothing.
The new business identified a gap in the market, whereby individuals and groups could sell their unwanted belongings instead of throwing them away with the rubbish, to become landfill. The initial home-collection service is now complemented by a series of drop-off locations across the region; and the latest initiative sees the company work with schools and groups to help them raise funds.
The business makes recycling easy, convenient and rewarding for people in the region. With a strapline of 'Don't throw away - get cash today' the company aims to intercept re-useable items from contributing to landfill in the UK. Household textiles are 95 per cent recyclable and are the fastest growing sector in terms of household waste with over 1 million tonnes of textiles ending up in landfill every year, with most of this coming from household sources.
For more information go to enviroclothes.co.uk.
For more information on the award go to nebusinessawards.co.uk.