Get a taste of Durham's newest hotel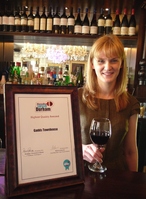 Durham City's newest boutique hotel is celebrating after it's restaurant has received a top food award in a nationally accredited food quality initiative.

The Highest Quality Assured award from TasteDurham is only awarded to businesses achieving at least 80 per cent of the TasteDurham criteria, which include physical features such as the condition of an establishment, the food on offer, cleanliness, comfort and ease of use of facilities. And also looks at the warmth of the welcome and the atmosphere experienced.

Gadds Town House is a grade II listed 18th century georgian town house, nestled in the heart of historical and culturally rich, Durham City on Old Elvet. It has 11 boutique style rooms recently refurbished to a high standard of luxury and elegance, offering guests luxury and comfort.

Formerly known as the Fallen Angel, the new Gadds Town House also boasts a five star restaurant. The steak and grill room serves the best quality and freshest meats, seafoods and produce – all locally sourced whenever possible. It is open daily for breakfast, brunch, lunch, afternoon tea and evening dinner.

"We are all very much part of a team and it is really important to us to know that we are offering a quality experience for our customers," said Louise Swinburne, Gadds Town House. "We are getting lots of new customers but it's also very pleasing to see people returning time and time again - that way you know you are doing a good job."

All businesses taking part receive an independent and confidential assessment of their business against national quality criteria and promotional opportunities as well as a useful report on how their business compares to their competitors. The assessment involves an assessor from Quality in Tourism on behalf of VisitEngland visiting each business and scoring a range of facilities.

Deborah Gadd, owner of Gadds Town House said: "This is great news for Gadds Town House. As a new hotel and restaurant we wanted to be part of the TasteDurham scheme as the quality of the food we serve is very important to us. Diners and hotel guests expectations are high and it excellent news to have it confirmed that we are able not only to meet but also exceed these."
Deborah & husband Nigel have a good track record in the hospitality industry in Durham. Together they have developed thriving and popular businesses at The Derwent Walk Inn, Ebchester, The Pump House & Seven Stars Inn, Shincliffe, The Stables, Wynard and also currently own Zen in Durham. It is their intention for Gadds Town House to always provide its guests with a quality driven experience, in a historic hotel, in an excellent location.
Food is increasingly important to visitors as they currently spend over £200m per year on food and drink when visiting Durham. The most recent north east visitor survey also showed that food had increased by 6% as a primary reason as to why people visit Durham.

"TasteDurham is a great way for businesses to demonstrate they are leading the way in providing a great dining experience for their customers as well as providing individual establishments with benchmarking information year on year to help a business to develop and grow successfully," said Andrew Walker, area manager, Quality in Tourism.
For more information on Gadds Town House check out: gaddstownhouse.com.