World-renowned artists collaborate to create Maistra's new Hotel Adriatic, Croatia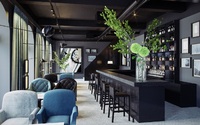 Hotel Adriatic, a luxury boutique hotel located in Rovinj on the northern coast of Croatia, is currently undergoing major refurbishment works and is set to open in summer 2015 with a complete new contemporary look, featuring an impressive and unique collection of over one hundred art works by world-renowned artists. With a re-design inspired by local art and the hotels 100 year old heritage, Hotel Adriatic is the latest luxury offering in the region of Istria from hotel company Maistra.
Hotel Adriatic was one of the first hotels to be built in the region in 1913 and is the only hotel located in the centre of the historical town of Rovinj. The renovation project, conceived by Zagreb-based architectural studio 3LHD (whom also designed Hotel Lone, an award-winning design hotel nearby) includes artistic collaborations with top contemporary artists and fashion, interior and graphic designers from Croatia, Slovenia, Austria, Italy, Germany and France.
3LHD have enlisted the help of specialist art curator, Vanja Zanko, to gather a number of visual artists to create bespoke art work installations specifically for the hotel. These will be complimented by smaller works of art displayed on the walls of each guestroom and communal areas throughout the building, to resemble an art studio. The 18 luxurious guestrooms will each be uniquely decorated featuring its own individual artwork which, along with its intimate setting, aims to provide guests with an elegant home from home rather than a hotel room.
The art collection consists of creations by internationally recognized artists whose works have been exhibited in a number of prestigious museums, foundations and collections, including the Louis Vuitton Foundation in Paris, MAXXI in Rome and the Museum of Modern and Contemporary Art in Rijeka, Croatia. Artists involved include Abdelkader Benchamma, Igor Eškinja, Goran Petercol, Massimo Uberti and Valentin Ruhry.
The renovation and re-design is intended to create a contemporary and cosmopolitan feel, whilst preserving the hotel's heritage values. Whilst the exterior keeps its early 20th century feel, the new visually rich interior is contemporary, classic and elegant with a myriad of textures, tones and colours.
Once the refurbishment is complete, the unique art hotel will comprise 18 guestrooms, including two suites, a chic French brasserie style restaurant on the ground floor, 'Adriatic Brasserie', and a hotel bar offering Croatia's largest selection of whiskeys. The menu at Adriatic Brasserie will incorporate local flavours and ingredients, whilst playing homage to the legacy of the rich history of Hotel Adriatic.
The hotel offers spectacular views of the island of St. Katarina on one side, and Rovinj's main square and old city on the other. The central square is edged with lively cafés and restaurants spreading out on to a charming harbour, whilst traditional taverns such as Kantinon, are only a few steps from the hotel.
To celebrate the re-launch, Hotel Adriatic is currently offering 25% discount on bookings. For bookings, visit maistra.com.
Rovinj can easily be reached from the UK, by flying to Trieste, Ljubljana, Zagreb or Rijeka, but the closest airport is Pula (served by Ryanair), an easy half-hour transfer to Hotel Adriatic.