The last of the summer sun: Top 5 getaways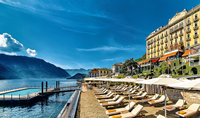 September is the new summer, when clever travellers take advantage of shoulder season rates, avoid the crowds and school holidays, and experience an unforgettable, sunny retreat.
Explore the tranquillity of Puglia's newest boutique hideaway, Masseria Trapana, relax by the glistening Lake Como at Grand Hotel Tremezzo, recline on the secluded beachfront at the sun-filled Algarve at Vila Vita Parc, indulge in a luxury Swiss escape with captivating views of the Alps at Baur au Lac or experience a spectacular seaside citybreak at the Hotel Excelsior.
Mason Rose picks the top hotels to catch the last rays of summer, in style.
What: Puglia's serene boutique farmhouse
Where: Masseria Trapana, near Lecce in Puglia, Italy
Why go:
Visit the newly renovated, nine-room bolthole built in local, golden tufa stone and Pietra Leccese stone. September is the perfect time to visit as temperatures in Puglia hit the mid-20s and the seas surrounding Italy are at their warmest. Adults-only relax on oversized sunbeds or grab a hammock in a shady corner by the glistening pool in the heart of six tranquil fruit gardens. The light-filled suites are individually- styled and incorporate many original features including authentic frescoes. Be a part of the traditional Festa te lu Mieru - Wine Festival- that occurs early September (and has done since 1974) nearby in Carpignano Salentino, in the province of Lecce. The moving scenery and historic surroundings is the perfect setting for this popular wine festival. Running for three days, there are shows, live bands and folk dances, but mainly- most importantly – it is packed with wine and food delicacies which Puglia is famed for!
September Rates: Lead in nightly rates start from €420/£328 for a Corner Suite during September or €350/£274 during October per room, per night including breakfast. (August rates usually from €750/£627 in a Garden Suite)
Book: trapana.com
What: A Dolce-Vita retreat alongside glistening Lake Como
Where: Grand Hotel Tremezzo, Lake Como.
Why Go: With the crowds of summer having subsided, September is an ideal time to visit Lake Como with temperatures remaining well above 20C degrees. The spectacular scenery and gardens around the lake begins to change colour, illuminated by the magical September light. The lake is still warm enough to swim in at this time of year - a must for any visitor - and it is also a perfect time to enjoy the many scenic walks around the surrounding woods and mountains. The historic hotel has 90 rooms and suites, all of which offer guests breath-taking views of the lake or the hotel's century-old 20,000 sqm park and gardens, recently redesigned by neighbour, George Clooney's gardener. F1 enthusiasts can catch the Monza Grand Prix taking place from 2nd-4th September. Take in the Traditional Rowing Race, Palio Remiero del Lario, on Lake Como during the first week of September and attracts teams from around Lombardy. Or simply tag on a break after the closing of the 21st Triennale of Milan 'Design after Design', which ends on 12th September, focusing on design and architecture.
September Rates: Start from €630/£482 +10%VAT in a Prestige Park View room including breakfast. (August rates usually from €690/£576 for a Prestige Park View room)
Book: grandhoteltremezzo.com
What: Gourmet dining, fine wines and sun-filled evenings in the Algarve
Where: Vila Vita Parc, The Algarve, Portugal
Why go: The Algarve glows in September as the weather is still reassuringly hot (often 26-8 degrees, if not higher) and the evenings are balmy, perfect for evening strolls. Vila Vita Parc is authentically Portuguese in flavour and warmly hospitable. This much-loved property has just finished five years of extensive renovation, with additional this summer of their brand new Club House: featuring a dramatic infinity pool and innovative, enjoyable dining at four singular restaurants: Moorish Aladin Grill, seafood Atlantico, The Whale, an Italian trattoria. This celebrated seaside resort showcases subtropical gardens and vistas over a striking Atlantic coastline and is usually block booked all summer with families. From September, the grownups take over again, relishing rural visits to the hotel's Alentejo vineyard and farm Herdade Dos Grous, just over an hour away, or indulging in gastronomic delights from the hotel's 2 Michelin-starred restaurant, Ocean, recently been transformed into a contemporary temple to cuisine and masterminded by rock-star chef, Hans Neuner.
September Rates: Deluxe Rooms start at around €364/£279 at the end of September. (August rates usually from €530/£443 for a deluxe room.)
Book: vilavitaparc.com
What: Iconic Swiss City Break with Captivating Views
Where: Baur au Lac, Zurich
Why go: With temperatures reaching the comfortable mid-20s in September, Zurich is an unexpectedly peaceful city break, combining all the top quality art, dining and events to keep visitors amused with captivating views of the surrounding lake and Alps. Having been the Swiss location of choice for over 170 years, Baur au Lac offers inimitable hospitality and seamless service – it is frequently rated as the luxury hoteliers' favourite hotel. Enjoy the warm September evenings dining at one of the hotel's four restaurants; including Michelin-star Pavillon or exploring Zurich's celebrated high street Bahnhofstrasse, only a 10 minute walk from the hotel. Active guests are encouraged to drive to the beautiful Alps, which are only two hours away and are perfect for a day of hiking or enjoy the Zurich fit special package, which includes personal training alongside the lake. Zurich holds its annual Film Festival from the 22nd September and as well as the European Biennial for Contemporary Art in Zurich, the Manifesta Art Festival, from the 11th- 18th September.
September Rates usually from € 570/£476.
Zurich Fit Special rate: Minimum stay 2 nights, bookable from Friday to Monday. Deluxe Double Room for two nights is CHF 1'752.00/£1347. Valid until October 31st, 2016.
Book: bauraulac.ch
What: Spectacular September Croatian Escape
Where: Hotel Excelsior, Dubrovnik, Croatia
Why go: Summer doesn't stop in September in Croatia, with the temperature averaging at a beautiful 20 degrees. Situated on the Croatian coastline, the superb location allows guests to absorb the last of the summer rays whilst enjoying the cool September breeze even in the heat of the day. Enjoy a fascinating private guided tour around the narrow streets of Dubrovnik's historic Old Town or venture out to explore the hidden coves and stunning Islands surrounding the city to discover Croatia's hidden gems up the beautiful Peljesac Peninsula. Visitors can head back to the property for a well-deserved and rejuvenating spa treatment offered by the exclusive Energy Clinic Spa. Not only does the hotel boast breath-taking views of the Adriatic Sea from every single floor, but guests have the option of dining alongside the sparkling Adriatic Sea at the Abakus Piano Bar & Restaurant. Dine al fresco with a range of light Mediterranean dishes as night falls and indulge in fine Croatian wine whilst listening to the soothing sounds of a live pianist that drift through the air.
September Rates: Spend 7 nights at the 5* Hotel Excelsior in Dubrovnik, Croatia for £1340 per person. Price is based on 2 people sharing a superior sea room on a B&B basis and includes return flights from Gatwick and private transfers. Departs 24th September 2016. (August rates usually €2,277/£1,902 for two people for a week.)
Book: classic-collection.co.uk or book via adriaticluxuryhotels.com