ibis Styles Crewe hotel opens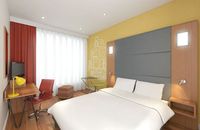 The hotel that travels in style - vintage car seats, 1920s inspired cocktails and an art deco design scheme are just some of the features guests can expect to discover when they check in to the new ibis Styles Crewe hotel which opened this week (13th August).
The ibis Styles hotel is a modern tribute to the classic car and vintage steam train heritage of Crewe, once a thriving centre for the transport industry. Like all ibis Styles around the world the new hotel pays tribute to local influences, creating a unique design that tells a story of the location throughout the hotel.
Home to the world's most revered car manufacturers and birthplace of the Bentley and Rolls Royce, it's this golden age of travel that the ibis Styles Crewe hotel seeks to encapsulate, from its tongue-in-cheek design scheme to its retro drinks menu.
ibis Styles is the boutique budget brand from the ibis family. Whilst ibis budget and ibis Hotel offer standardised features, fixtures and fittings, the ibis Styles brand enjoys greater flexibility when it comes to its uniquely designed hotels. As a result guests can experience all the fun, quirky elements of a boutique property with the quality assurances of a large and well-established hotel brand. Each ibis Styles hotel boasts its own distinct design, great location and 'all-inclusive' offer at a great price with loads of little extras!
Inge Van Ooteghem, SVP Operations Economy and Budget Hotels, comments: "We are delighted to open ibis Styles Crewe – a hotel with a fantastic story to tell and a brilliant product for local, business and leisure guests to enjoy.
"Now is a very exciting time for ibis Styles, with a further three hotels set to open in the coming months in Birmingham, Haydock and Barnsley. As is synonymous with the Styles brand, each will have its own totally unique story and personality. ibis Styles is a growing economy brand in the UK. It combines all the comfort and quality of the ibis brand with stylish design features that makes every hotel unique and tells a story."
Located on Crewe Business Park close to the town centre and with 112 bedrooms, the hotel's interior is a blend of intricate detailing, modern industrial design and funky furnishings. As well as manufacturing cars, the workmen of Crewe bolted together many of the great steam locomotives that would gently pull passengers around Great Britain. Travel on these vehicles was a treat for every sense: the smell of wood and leather; the sound of engines purring or chimneys chugging; and beautiful craftsmanship on display throughout. Just like those old elegant forms of travel, everything inside the hotel is meticulously crafted to help guests relax in style.
Art deco schemes run throughout, with a bold palette of sleek blacks and industrial greys punctuated by vivid yellows and decadent golds. Furnishings feature bold geometric shapes and punchy patterns, evocative of vintage train carriages. Little details like stacks of weathered suitcases, bright yellow factory stools and real vintage car seats complete the look.
In the lobby, guests can grab a mint julep and settle into big leather chesterfield sofas while looking up at the canvas wall scene from the Rolls Royce factory in the 1940s, illuminated by old train carriage lights. The scheme continues in the plush bedrooms, with train murals and a railway inspired headboard. And if the Railway Children are in tow, they can let off steam in the kid's zone, with vintage toy trains and cars.
Overnight pit stops start from just £50 for a double room, bed and breakfast. Find out more at ibis.com.