Foodie Fez, Morocco - Unique cookery city break destination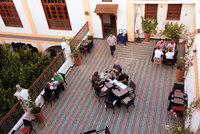 Fez is a dream destination for food lovers and a visit to Africa's largest medina found in Fez will arouse the taste buds like nowhere else. The almost 10,000 car free streets are filled with Moroccan street food served as visitors stand and move between tiny stalls often with one food item in hand. Diverse cafes, pop up restaurants and more luxurious restaurants in riads can also be found across the medina.
With its roots in 13th-century Arabo-Andalusian cuisine, Fassi gastronomy combines sweet with savoury, treating fruits as vegetables and making great use of a whole range of spices and condiments, including cumin, coriander, pepper and cinnamon among other ingredients. A local delicacy is pigeon and almond pastilla and a must whilst in Fez.
At Palais Amani, guests can enjoy a Cookery Break and are invited to seek out traditional ingredients which will later be used within a cookery class. A half-day package has been unveiled at this art deco hotel. Fez is full of history and still maintains an authentic Moroccan feel, throughout a morning tour of the souks gathering ingredients with the chef, guests will also encounter some hidden gems that tourists may not always find. With all the ingredients in a basket it is back to Palais Amani for a two hour cookery demonstration with the chef. Here guests will learn how best to use Moroccan ingredients including a vast selection of spices to create traditional dishes. Guests later sit down to enjoy their own lunch on the stunning terrace. All guests on the Cookery Break take home a Palais Amani apron, a mini basket of spices and detailed recipe sheets to recreate the new recipes back home.
Palais Amani's restaurant offers both traditional and more inventive Moroccan cuisine. Dishes include slow cooked beef with wild artichokes, monkfish tajine with peppers and saffron or the infamous chicken pastilla to name a few. Combining Arab, Berber, Moorish and Mediterranean influences, the food at Palais Amani is a marriage of ancient ways of cooking with a modern touch of serving. A Moroccan tapas menu is also available throughout the day.
Palais Amani is the biggest authentic riad in Fez home to 14 luxury suites and bedrooms. The relaxing 600m2 garden leads to a Hammam where guests travel to a world of sensations and relaxation enjoying a selection of traditional Moroccan rituals. The Hammam is designed in true Moroccan style complete with a hot room, an exfoliation room, separate showers and a luxury relaxation chamber, all perfect after a day out. Palais Amani's restaurant serves meals throughout the day. A library with a selection of games is also available and open 24 hours. For a truly impressive view of Fez guests can enjoy the private roof terrace with spectacular 360? views of the unique ancient city and surrounding mountains beyond, a bar is also located on the terrace and is the ideal spot to enjoy a pre-dinner cocktail served with homemade Moroccan snacks.
Palais Amani's chef Houssam Laasiri has created a simple recipe for a traditional Moroccan dish; Lamb tagine with cardoons (serves 4, preparation 1h30)
Ingredients
1Kg Lamb cleaned & cut
2 big onions
3 cloves of garlic
1 teaspoon of white pepper
Ginger
Coloring saffron
1 glass of olive oil
2 Table spoon of Butter
Salt
Small bunch of Parsley
1kg Cardoons
Red olives and preserved lemon for decoration
Method
Clean the lamb meat and, peel the onions and cut them in fine strips, peel the garlic and grate them.
In a container, put half of the chopped onions, along with the grated garlic, the meat and spices, leave to sit for a while.
Once marinated sufficiently place in a large sauce pan and gently stir it on a low heat for about 4 to 5 minutes. Then add water & bring to the boil.
When the boiling is up to a bubbling consistency, then add butter & olive oil with a generous portion of chopped parsley and the rest of the chopped onions. Place lid on saucepan and leave it for approximately 1 hour on a medium heat.
Wash cardoons and bring to a boil in water only. Once adequately boiled to a soft nearly cooked state remove from water and peel the cardoons, cut them into medium slices, add them another saucepan with a bit of lemon and salt and braise for about 10 minutes.
Once the meat is ready, add it to the same saucepan as the cardoons so that the meat can be cooked in the sauce as well.
Be fascinated by foodie Fez in 2015.
palaisamani.com 12 Derb el Miter, Oued Zhoune, Fes Medina, 30000, Morocco
Rooms from £143.00 based on two sharing including three course Moroccan breakfast
The Cookery Break is priced from £323.00 and includes the half day package with lunch, spice basked and apron, accommodation and breakfast based on two sharing