Grab the chance to work in conservation in South Australia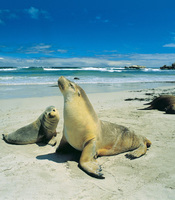 The South Australian Tourism Commission, working in association with STA Travel and Tourism Australia, is offering travellers the chance to win a job as a conservation assistant on Kangaroo Island. This job offer is part of a wider campaign designed to boost awareness of the opportunities for young people in Australia.
As youth unemployment soars in the UK and the reality of university fees bite, an increasing number of young people are heading to Australia to work. STA Travel has reported a 10 per cent rise in the sale of Working Holiday Visas in the last six months with further growth expected.
This trend has prompted STA Travel to offer young people the chance to win one of seven jobs each situated in a different Australian state and territory. In South Australia the opportunity is to work on Kangaroo Island as a conservation assistant on Seal Bay.
Kangaroo Island is widely regarded as Australia's fourth icon, famed for its abundance of free roaming native wildlife. Seal Bay Conservation Park in turn is one of only two places in the world where visitors have the opportunity to walk amongst a breeding colony of rare Australian sea lions.
Flights, the job and visa fees are all included in the prize. To be in with a chance of winning one of these jobs go to facebook.com/STAtravel.UK
STA Travel has also released a raft of great travel offers for Australia. Currently the lead in price of a flight from Heathrow to Adelaide is £750. This is valid for travel before June 15th 2012 and must be booked by March 10th 2012. Working Holiday Visas start from £219.
STA Travel can also help with setting up bank accounts in Australia, and give exclusive access to job websites to help young travellers find work. This is on top of advising young people on securing their money with a travel cash card which can be pre-loaded to save carrying lots of notes, the best deal on an Australian SIM card for their phone and sorting out Australian tax details before leaving the UK.
The campaign runs from 24 February - 30 June 2012
Criteria for a Working Holiday Visa:
must be between 18 and 30 years old
must have a British passport with one year validity or more
must have no dependent children
must show sufficient funds for a return onward fare and for the first part of the stay
be of good character and meet the health criteria
For more information, visit:
uk.southaustralia.com
facebook.com/STAtravel.UK