Campsites with spas are on the menu for families in France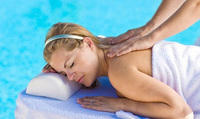 French holiday specialist siblu will pamper campers in 2012 with the launch of health and wellbeing facilities at holiday villages across France.
Siblu is hoping that the selection of saunas, steam rooms, hot tubs and massage treatments will tempt a mad dash of mums who've previously pooh-poohed the idea of camping with their family.
As an added pick-me-up siblu is offering savings of 25% to slim down the prices of all holidays at French campsites with spas - July and August breaks included.
Siblu has packed away tents and touring pitches so that families who crave camping with home comforts can choose from a range of holiday homes with comfy beds, hot showers and space to unwind.
Four-star Le Bois Masson siblu holiday village near to the seaside resort of St Jean de Monts in the Vendee has a sauna, steam room and fitness centre that help keep the holiday-food calories in check. Seven nights from 21 July start from £735 per family, saving £245. Steam room sessions cost 6€ per person, massages from 20€.
Domaine de Kerlann, near to Pont Aven in Brittany, offers massage styles from across the world, including Californian, Kalari Marma, and Zen Shiatsu, plus there are soothing hand and foot treatments that will ease flip-flop scuffed toes. A seven-night break from 14 July starts from £609 per family, saving £203. Massage treatments start from 15€ per person.
Les Sables du Midi, in the town of Valras Plage, in Languedoc on France's Mediterranean coast, has massages and body scrubs to help guests keep their sun-kissed skin healthy, plus a sauna, steam room, hot tub and fitness centre - as if the weather in the south of France is not warm enough already! A break for seven nights from 14 July starts from only £693 per family saving £231. Massages start from 20€ and saunas from 5€.
For those who simply want to wash away their stresses, there are bubbling hot tubs at La Réserve in Aquitaine, Le Lac des Rêves in Languedoc and Le Montourey on the Côte d'Azur.
To find out more about siblu's spa and massage treatments head to siblu.com/health.