St Helena is urging intrepid investors to act now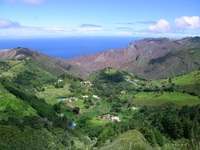 The South Atlantic island of St Helena is urging the private sector to invest now to take advantage of significant economic opportunities that have arisen in light of the recent decision to grant the Island an airport. Scheduled to be operational by late 2015, this will be the first airport for the British Overseas Territory, lying 1,700 miles north-west of Cape Town.
With just three years and 10 months until the airport opens the St Helena Government is actively encouraging investors to 'get in early' to maintain exclusivity, capitalise on the projected high-end tourism demand and reap an attractive return on their investment.
Mike Dean, St Helena's Tourism Development Executive, commented: "The Island is poised to undergo an economic transformation. Investors should act now. This is a unique time for companies and entrepreneurs to seize advantage of this economic opportunity and be ready when the island welcomes the first plane."
Tourism has long been identified as the key driver for economic growth on the island, and as such, opportunities for this sector include hotels, restaurants, retail and visitor experiences. Lucrative economic opportunities have also been identified in the significantly under-developed fishing industry (currently only waters within 12-15 miles of St Helena are fished), agriculture and coffee – St Helena is renowned for its much-sought after coffee.
"Inextricably linked with Napoleon with dramatic landscapes and extraordinary flora and fauna, St Helena offers a unique location for investors both in tourism and wider sectors. Attracting new investors will act as a catalyst for growing visitor business on the island over the next 10 years and beyond" added Mr Dean.
Due to its unique, remote situation (currently only accessible by sea) and to protect the outstanding natural beauty of the Island, St Helena has adopted a best practice approach and has looked carefully at how other government have handled tourism growth in a sustainable manner. A cornerstone of St Helena Government's economic strategy is, therefore, to carefully balance supply and demand, with the objective that tourist numbers will be limited (the island currently attracts around 1,500 tourists each year). "Capping visitor numbers will ensure that the market is protected as a high-end destination and will not become saturated. As such, the risk profile offered to early investors is very different – their risk is reduced and their investment is offered a higher level of protection. They will also benefit from higher levels of marketing early on" added Mr Dean.
It is anticipated that tourism of this level will contribute £31.5m to the island's economy within ten years, based on current demand and research carried out by the UK Government's Department for International Development.
Since the positive access announcement in November 2011, construction of the airport is already yielding multiple commercial opportunities too for UK companies, including Sheffield-based Geo Robson & Co (Conveyors) who secured a contract to make a baggage reclaim carousel for St Helena's new airport.
A public consultation on the Island's proposed Economic Plan (EDP) has just been carried out by the St Helena Government. A robust economic model, it outlines on a practical level how 'Saints' (as islanders are fondly referred to) and the private sector can capitalise on the new airport and carve out a sustainable future. The plan projects that over the next decade at least 30 new businesses will start, creating an additional 500-700 jobs on the Island.
A copy of the Economic Development Plan can be downloaded at sainthelena.gov.sh.
Businesses interested in investing in St Helena should contact the St Helena Development Agency (SHDA) at shda.co.sh.