MC Truck Rental spots customer desire for Volvo trucks on short-term hire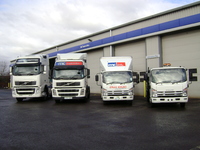 MC Truck Rental has done its biggest order to date whilst becoming one of the few rental companies to offer Volvo trucks on a spot hire basis. Over 100 new Volvo vehicles have been added to their fleet as spot hire and contract hire vehicle replacements.
The significant investment of £9 million towards this venture demonstrates MC Truck Rental's commitment to meeting customer needs. Dave Hutchins, MC Group Sales Director comments, "Having looked at the market place we realised very few companies are providing customers with Volvo's on a spot hire basis. We identified a strong demand for the Volvo product on a flexible hire requirement and are hoping to meet that demand with the extensive range within our rental fleet."
The new additions are a varied range of vehicles to cater to differing industry needs. They include FH tractor units, with XL cabs and 500 bhp engine with I shift gearbox and also 18, 26 and 32 tonne Volvo rigids. The rigids are available in a mixture of FLH 4x2 18 tonnes, FM 4x2 and 6x2, curtainsiders, boxes and refrigerated bodies, all fitted with tail lifts. Whilst the FMX 8x4 are fitted with tipping body's and grab loaders.
The vehicles, which are available for hire from April 2012, also benefit from Dynafleet, Volvo's telematics system. The carefully selected product range is well known for key factors such as reliability, driver acceptance and fuel efficiency. The diversity within this range is testament to MC Truck Rental's ability to meet customer needs however diverse, within a tight time frame.
The spot and contract hire packages are not only flexible and competitively priced, the back-up is first-class too. MC Truck Rental sister company MC Truck and Bus provides a full support network for all service requirements. Hutchins adds "We have listened to what our customers have said and provided a more flexible solution to their transport needs. We now hope to provide the complete range of transport solutions to help more operators carry out their business with ease."